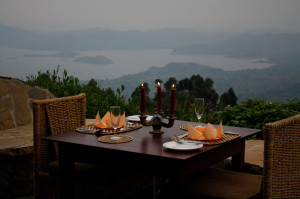 The intimate collection of Volcanoes lodges provides the perfect form of escapism for newlyweds on their honeymoon. Whether you and your partner are after adventure on the African Plains or a tranquil, romantic candlelit dinner, Volcanoes can tailor an enchanting Honeymoon Safari to suit your requirements.
You can expect to be guided through a series of breath-taking African vistas to meet the various forms of beautiful and majestic wildlife that Uganda and Rwanda have to offer. Your romantic honeymoon will take you across spacious savannahs and through enchanting forests with your partner, a genuine once-in-a-lifetime experience.
A stay at any of our lodges will see you pampered to the height of luxury between inspiring visits to the local landmarks, the highlights of which will doubtless be the mysterious gorilla families that live in the absorbing forests. The beginning of a new lease of life deserves a truly special adventure, what could be more memorable than a visit to the Pearl of Africa?