Volcanoes Safaris is delighted to announce that it has been selected as a winner of the 2013 World Saver Awards for small hotel chains, by Condé Nast Traveler for its extensive contributions to conservation and humanitarian initiatives. The annual awards, which have been running for 25 years, are among the most coveted in the travel industry, honouring visionary companies who are using the power of tourism to do good in the world.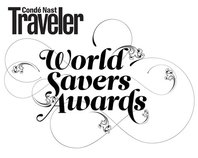 Judges for this year's Conde Nast World saver Awards included 26 influential and expert academics, CEOs, philanthropists and Condé Nast Traveler editors. Volcanoes Safaris beat 8 other finalists to win this year's Small Chains category, after being assessed on how they exercise social responsibility in cultural preservation, and wildlife conservation, through funding research for mountain gorillas and chimpanzees, and supporting local Batwa Pygmy communities.
Volcanoes Safaris is a unique great ape ecotourism business specializing in eco luxury safaris, dedicated to maintaining its ethos of sustainability by balancing the needs of the local communities and the needs of the guests. $100 from every Volcanoes safari is donated to fund community work.
"Providing Western standards of comfort has to be balanced with the challenges that local people face in obtaining food and clean water," says Praveen Moman, Co-Founder of Volcanoes.
The Volcanoes Safaris Partnership Trust (VSPT), the non-profit arm of Volcanoes Safaris, also undertakes specific community and conservation activities in and around its lodges.
Near Kyambura Gorge Lodge, the VSPT has created a cooperative that gives women the opportunity to harvest coffee on the Trust's property.
Near Mount Gahinga Lodge, the Trust is also helping a community of 80 Batwa (Pygmies) to preserve their cultural heritage. Removed from their land when Mgahinga Gorilla National Park was created in 1993, the Batwa suffer from extreme poverty and health issues. The VSPT have worked with the Batwa to establish an interactive tour of traditional medicines, hunting demonstrations and huts, where locals demonstrate songs and dances, helping them to benefit from tourism.
Read the Conde Nast Traveler article: The Volcanoes Collection: Supporting Local Community, Protecting Local Wildlife.