Congo Basin Forest Partnership Conference, Gabon, 2 December 2013
Presentation by Praveen Moman, Co-Founder & Director, Volcanoes Safaris
The challenge of creating successful ecotourism in Central Africa: A perspective from the private sector.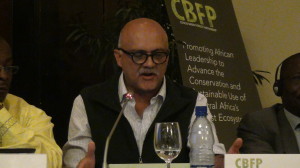 Someone said at lunchtime that I had a dream; a dream about wildlife and adventure tourism.  It may not be as important as the dream of others, but it is a dream with which I was brought up by my father. It is a dream that is central to the work of this wonderful Partnership.
The Congo Basin is one of the most exceptional and unique wilderness areas of the world. Of course it is challenging to create development in the basin. But everything in life is challenging and for the poor in Africa, those in the forests, those in our poorest cities, it is especially challenging. So it is our duty to see what we can do to support our people on this continent; they too have a right to economic development and to a future.
We can all talk big at these conferences, but who is actually going to do this? The Hopi are an old Native American Tribe and there is an old legend amongst the Hopi people that when they had problems they gathered together and they asked – who will be the people to find the solution? At the 11th hour they came to the conclusion that they themselves would be the people to take themselves forward!
So my friends it is the people in this room who can solve the problems of the Congo Basin Forest Partnership. From the youth that you represent, to the donors, the NGO workers, the governments, and civil society – what you have is a huge voice. We have met so many inspiring and interesting people over the past few days, talking about their work with communities, creating livelihoods, conserving habitat and wildlife, park management, developing capacity, controlling poaching, doing controlled logging, making national parks work. It's very challenging work, which we should applaud. It shows that a lot is going on in the Congo Basin. But yes, more still needs to be done.
We need to feed the communities around the tourism and conservation sites, we need more economic development, more ecotourism, more protection of species and land. We also need to make sure there is openness from those who manage the parks and from the conservation non-profits. They both do a fantastic job, but they need to share what they do with us. The earth belongs to everyone – you must share it with everyone
We need to include the communities more so that they too can take us forward. The people of the Congo Basin forest are some of the oldest peoples on this planet. They know what the environment is, and they know what their land is. It's a matter of us liberating our attitudes and working with them so that they can share what they have had far longer than us.
We need to work with them, and a lot of this can be very simple – reducing paperwork, simplifying visa processes. As one of my colleagues says, if you don't change, change will change you anyway, and the change today is going on at an exponential rate. So we need a new approach from our governments in this region, from donors and of course we need the famous private sector. The private sector sometimes has a bad name, but the private sector is the engine of growth.
With public-private partnerships we can move forward with this. I would suggest that the facilitators, nominate a small group of people to see how you can move forward with some key practical ideas and report back to your group in a specified time.
Thank you