Volcanoes Safaris participated in the British Airways Charity Shield football tournament on Sunday the 23rd of February 2014 at the Kyadondo Rugby Club. BA partnered with the Cooperate League Uganda to bring companies like Coca Cola, Tullow Oil and Makerere University. The winning prize was the Charity Shield, medals for each of the team members and a British Airways World Traveler return air ticket to London!
The tournament was to help raise money for its Flying Start Charity, which is a global partnership with British Airways and Comic Relief UK. This charity aids the under-privileged children in destinations where British Airways operates.
Volcanoes had a team of eleven players of which only seven (six male and one female) were eligible to play. We played 5 games against teams from Tullow oil, British Airways, Makerere Business School, Spedag Interfreight Shipping and Uganda Health Marketing Group, ending up with one draw and two goals, a great achievement since it was our maiden participation.
Our best game came against British Airways where the team exhibited exceptional dribbling and technical game control skills. The Man of the Match, Kevin James, slipped past the British Airways defenders down the right hand side, turned left, turned right and shot past the bewildered goal keeper…and GOAL! The entire team thumped their chests like a silverback in celebration bringing delight to the mammoth crowd.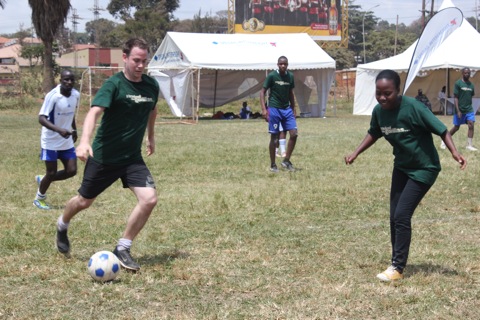 At the end of it all, Coca Cola won the charity shield while we settled for a certificate of participation and giving back to the community through social responsibility. Volcanoes Safaris thanksBritish Airways for organizing such an event and helping the under-privileged children of Uganda.