Family, Friends, Community and Local Leadership joined with Volcanoes Safaris Staff in celebrating the accomplishments of 2013 and looking forward to even more in 2014.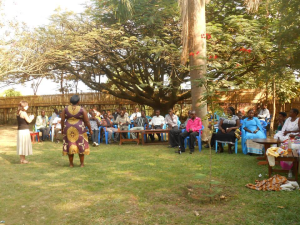 The day started early with VSPT staff and the Kyambura Women's Coffee Co Operative shopping and cooking. The whole spectrum of local favorites was being prepared, matooke (steamed green bananas), rice, karo (millet), Irish (potatoes), cabbage, beef and pineapple.
By midmorning the music was setting the rhythm for the preparation activities, sweeping, setting up tables and chairs. At noon a quiet settled over the compound as everyone disappeared only to return a short time later dressed in their finest.
Food was served and quickly disappeared as picture taking began. Conversations were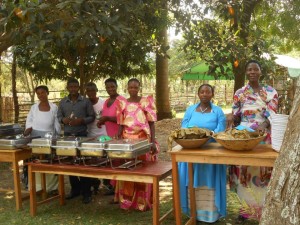 interrupted as everyone became involved in grouping and posing for the cameras. The cards and games came out and basketball attracted young, old, male and female. A member of the VSPT sponsored women's football team came by to pickup the ball on the way to practice at the VSPT sponsored playground.
Expressing their appreciation to all present, Nicole Simmons, VSPT Project Coordinator, and Stella Asabe, Deputy Project Coordinator, thanked everyone for the hard work that was done during 2013 to accomplish the strengthening of the coffee co op, the formalizing of the beekeeping co op, supporting women and girls by sponsoring football teams in school and community, returning the wetlands to its natural beauty creating a sanctuary for displaced birds, reptiles and animals.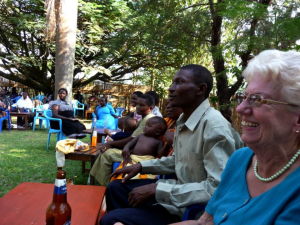 Additionally, encouragement was given to continue with the works begun but also be open and available for new community projects and expansion of current projects like the hand processing of finely blended organic soaps containing coffee's firming and exfoliating properties.
2014 here we come!