The Volcanoes Safaris Partnership Trust (VSPT) has begun a Tea Processing exhibit at the Volcanoes Safaris Bwindi  Lodge in partnership with local communities. The tea tour demonstrates how tea is grown, picked and traditionally processed in Uganda.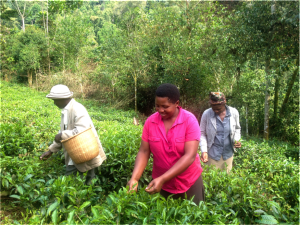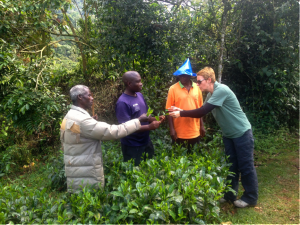 Tea has also proven to be a very useful buffer crop when planted between forest areas with protected wildlife and local human communities. Animals do not eat tea so feel no need to come out of the forest to "crop raid" which is the source of much human-wildlife conflict in areas around National Parks.
Volcanoes Safaris Bwindi Lodge, which is located at the edge of the Bwindi Impenetrable Forest, World Heritage Site and home to the Mountain Gorilla, has a small tea plantation that separates the forest from the local community. The VSPT has partnered with local growers and the lodge to demonstrate tea processing to interested visitors. The tour shows how tea is grown and also how "black", "green" and "white" teas are produced and differentiated. Guests are invited to taste the tea at the end of the tour.