Chimp tracking Uganda
Tracking chimpanzees in the wild is a wonderful and unforgettable experience.
Chimpanzees, like Mountain Gorillas, are an endangered species, with only 150,000 left in the wild. Chimpanzees share 97% of human DNA and are considered to be our closest living relatives. In the wild, chimpanzees live in large groups of 15-120 individuals, communicating through a subtle system of vocalization, facial expressions, body postures and gestures, much like we do.
Uganda has the biggest population of chimpanzees on Earth. In Uganda, habituated chimp populations are found in the protected areas of Kyambura Gorge (Queen Elizabeth National Park), Kalinzu Central Forest Reserve, Kibale Forest National Park, Toro-Semliki Wildlife Reserve and Budongo Forest Reserve. Wild chimpanzees are also present in smaller forests and on private land. Rescued wild chimpanzees can also be seen at Ngamba Island Chimpanzee Sanctuary and Uganda Wildlife Education Centre in Entebbe.
Chimpanzee tracking is the most popular way of seeing Uganda's wild chimpanzees. This activity starts early in the morning with a pre-tracking briefing by a Uganda Wildlife Authority guide. The rangers know the chimpanzee families intimately and will enjoy telling you about the individual members of each family. Just like humans, every chimpanzee has its own unique personality. The armed rangers guide you through the forest, looking for signs of chimpanzee activity. Generally, you will be alerted by the screech of a chimpanzee in the distance, or the sound of breaking branch overhead! The guides walk ahead, communicating with the chimpanzees by mimicking the noises they make.
Sometimes trackers find the chimpanzees quickly; other times, the search may take an hour, two hours, or more. Once you locate the habituated chimpanzees, you are allowed up to one hour with them. During that time, they are very likely to move around. Every interaction with the chimpanzees is different.
For those who would like to spend longer with the chimpanzees and understand them in more depth, the chimpanzee habituation experience is undertaken alongside researcher guides and primatologists. This day-long activity can even be extended over several days.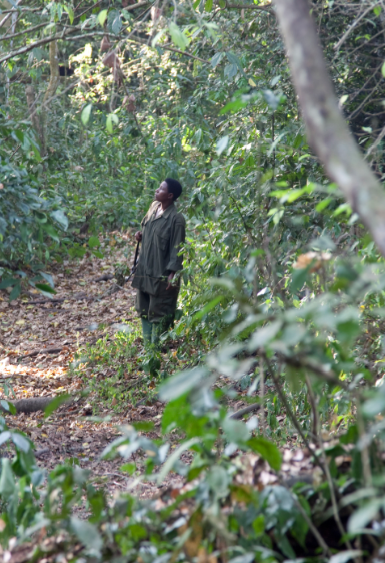 Thanks to Uganda's temperate climate, the chimps can be seen all year round in any of the parks and reserves mentioned here.
The 'underground forest' of Kyambura Gorge is home to what are sometimes called 'the lost chimpanzees'. The gorge has 15 habituated chimpanzees (animals that are used to being in the presence of humans). Kyambura Gorge is a unique setting for chimp tracking. There is no other place like it in Uganda, perhaps the world.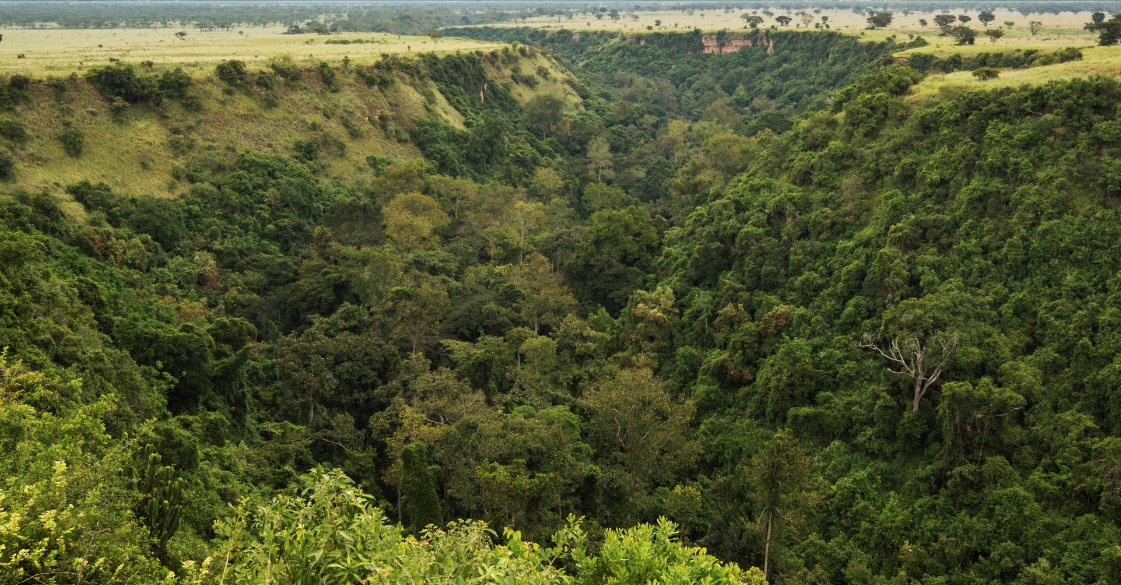 Come see the lost chimpanzees of Kyambura Gorge. Kyambura Gorge Lodge overlooks the gorge. Guests have even had occasional sightings of the chimpanzees from the lodge! For more information please contact the Volcanoes Safaris team.