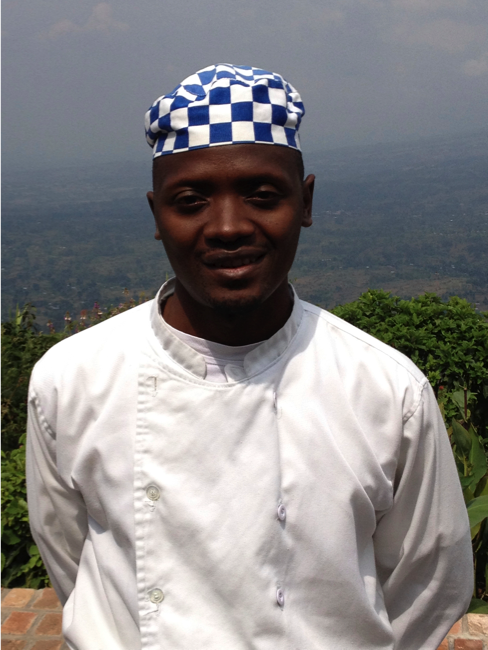 Q: Have you always lived and worked in Rwanda?
A: I grew up in the Eastern Province in Rwanda, but I have also worked in Uganda and the Congo. I came to be a chef here in Rwanda and learned local dishes from my parents. I used to love helping my mother prepare dinner for the family and from the age of 15 I would help her in the kitchen. I have now been cooking for 24 years and I still love it.
Q: Did you always want to be a chef?
A: Yes. Ever since I started heping my mother at home I knew this is what I wanted to do. I went to a cooking school in Kigali. My first job as a professional chef was with another travel company in Rwanda, which was great experience.
Q: What do you enjoy most about your job?
A: I really enjoy cooking "Muzungu" (East African term for foreign/white) food. It is very different to the local Rwandan food. When you are serious about working it is very easy and enjoyable to learn new things. I have had some great training from 'Food and Stuff' with Volcanoes and I always hope to better my skills as a chef. There is always something new to learn.
Q: What is your favourite recipe at the lodge?
A: My favourite recipe is the avocado soup. We always get such good feedback from guests and they often ask for the recipe because apparently it is not very common to have avocado soup. We have also just started serving a Rwandan Platter, so that our guests can sample some local Rwandan dishes, which is also very popular.
Q: How is Rwandan food different from Western cuisine?
A: Rwandan food is much more filling and uses far more root vegetable and beans. Meat is eaten for special occasions mostly. My favourite meal is Matoke, which is quite like a large cooking banana that we steam or put into a stew, with beans, greens (like spinach) and g-nut sauce, which is made from groundnuts or peanuts.
Q: What do you like most about working for VS?
A: I enjoy being challenged every day and I also enjoy being busy. I also really enjoy the guests saying nice things about my food. It makes me feel very proud to work for Volcanoes Safaris.