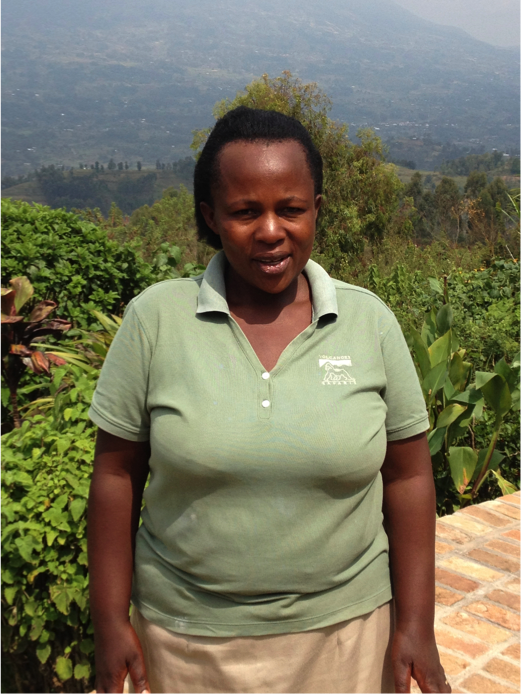 Q Where did you grow up?
A: I have always lived on this hill (Sunzu – referring to the high hill atop which Virunga is located). My parents brought me up here and I now live here with my husband and four children. It is home. And ten years ago, it was on this hill that Volcanoes Safaris decided to build a lodge.
Q: How long have you been working for VS?
A: I have been working at Virunga lodge since the beginning. When Praveen decided to build a lodge here, the building materials were stored right next to my house. I knew that a 'muzungu' (meaning 'foreigner') building a big house would mean jobs and money, so I asked for a job. I started helping the construction team, carrying timber and mixing cement. Ten years later and I am still here working in the housekeeping department. I am very fortunate.
Q: What did you do before VS?
A: Like most people in this part of the country I was a farmer with my husband. We grew maize, beans and sweet potatoes. Today we still grow vegetables to feed our family, but it is not a business. My husband also works at the lodge as a gardener, so we are too busy working to rely on farming anymore.
Q: How have things changed at the lodge since you started working here ten years ago?
A: Since opening there have been a lot of positive changes here. When we started we were all far more busy, perhaps because we didn't know what we were doing and didn't have much experience. Today the lodge is running more smoothly as we all know what the guests need and want.
Q: What do you like most about working for VS?
A: Volcanoes is my family now. They have taken care of me and my family and supported us for a long time. I have been working here for a long time and most of the others working here have been here since it opened as well, so we all know each other very well.
Q: What does working for VS mean to you?
A: Working for VS is so important to me. I owe so much to the company and to Praveen. This job has enabled me to look after my children and give them the life I wanted for them, a life where they can do well and achieve a lot. My first born is getting ready to go to university, the first in our family! He is such a clever boy and he wants to study medicine. That is something that I could never have even dreamed of before starting work with VS. It has changed my life.
Q: What do you hope for the future?
A: I pray every day for the future of VS so that we can continue working there and so that I can send all of my four children to university or to good jobs. Rwanda has changed a lot in the past few years and I want my children to have a happy and full life, which I know they now can.