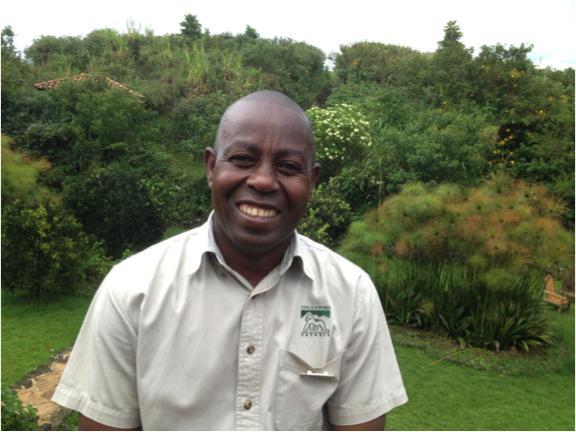 Q:How long have you been working for Volcanoes?
A: My goodness – a very long time now! In July this year it will be ten years
Q: As a Ugandan, how did you end up in Rwanda?
I am originally from Bushenyi, in Western Uganda. I started work for another Kenyan tour company who had a tented camp in Bwindi Impenetrable Forest, not too far from where I come from. Praveen (Founder of Volcanoes Safaris) used to come to the camp, while he was looking for locations for his own lodge.
Q: So you started work for Volcanoes Safaris straight after you left?
A: Unfortunately not. In 1999 you might remember that there was an incident in Bwindi Impenetrable Forest, which involved some international tourists. It was awful. The park had to close. At that point Volcanoes had already bought land, but had not started building.
Q: Were you worried that incident would deter tourists from visiting Uganda?
A: Of course I was! Fortunately we are no longer living in such troubled times and thankfully things are now stable and we can all feel safe again. At the beginning of 2003, when things had settled down again I was contacted by a great friend of mine – Mama Bwindi. She was a Kenyan working closely with Volcanoes, greatly admired and known in the Bwindi region for all her hard work in the tourism industry. She told me Volcanoes had opened a new lodge in Bwindi and I should apply for a job.
Q: How do you feel about being so far from home and working in Rwanda?
A: I am happy to work anywhere – we have to support our families at the end of the day! I started working at Virunga Lodge when it opened and was promoted to Manager in 2009. I have been extremely lucky to work in such a beautiful place. Of course I miss my family, but I also want to provide my children with the best opportunities in life, and fortunately working for Volcanoes is allowing me to do that.
Q: What has been your greatest achievement working for Volcanoes?
A: Of course I am very proud to be managing one of the best lodges in Rwanda. I can't describe what working for Volcanoes means to me – it has been fantastic. One of my proudest moments was travelling to London for hospitality training in 2012. It was such a great experience working in some of the best hotels in the UK. Although I was there in November – it was freezing!
Q: Do you have a life motto you live by?
A: To enjoy life as much as possible and not take anything for granted.