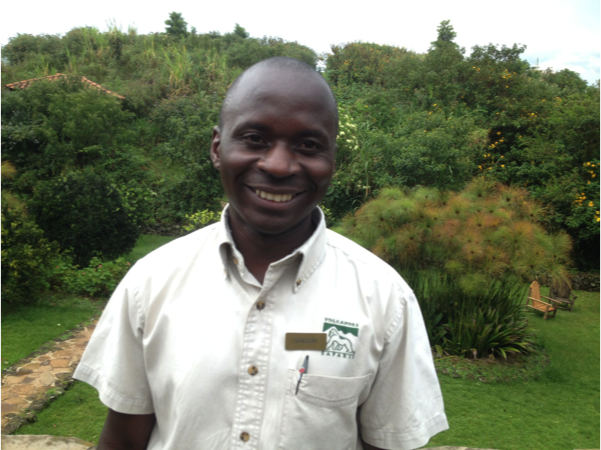 Q: How long have you been working for Volcanoes?
A: I started working for Volcanoes Safaris in 2003 at their first lodge in Sipi Falls, in North Eastern Uganda. I stayed at that lodge for 2 years.
Q: As a Ugandan, how did you end up in Rwanda?
When Virunga Lodge opened in 2004, the Lodge Manager at the time, Charles was also a Ugandan and a good friend of mine. He called me to ask if I would come to Rwanda to help him and the team. When I got to Rwanda there were only 4 bandas and no flushing toilets or running water.
Q: So the lodge has changed quite a bit over the past ten years then?
A: It has changed a lot since the beginning! Every year the company has grown at expanded. We now have 10 bandas, two that are just opening as Deluxe bandas, which is very exciting. There are also plans for a spa at the lodge, so we are always improving.
Q: What do you like most about working for Volcanoes?
A: Volcanoes is a great employer. They have helped me with lots of training. I have worked in all of the lodges at some point to learn how each of the different departments work. I started working as a waiter, and then moved to housekeeping and now I am assistant manager. I am always busy with Volcanoes and now that I have worked here for so long they feel like family.
Q: What do you mean they feel like family?
Well I see Volcanoes as a second parent – I have grown up here, I got married to my beautiful wife while I was working with Volcanoes, and I have had my children while I have been here. It has been so important in my life, and now my oldest son would also like to work in tourism.
Q: What do you see for the future of the company and yourself?
A: We have such a strong team now, many of whom I myself have found and trained, which I feel very proud of. The company will continue to grow and improve, and of course we will continue to have lots of guests – As long as there are gorillas, there will be guests!