Volcanoes Safaris has been operating as a ground handler in Uganda and Rwanda for over fifteen years. We have built up a first class reputation in delivering high quality service with a professional team of driver guides who are all knowledgeable about the national parks, wildlife and culture of both countries. Many of them are leaders in their own specialty field of ornithology (birding) herpetology (reptiles) and Lepidopterology (butterflies), to name a few.
We are now happy to share this specialist ground handling service with other tour companies and lodges for the first time!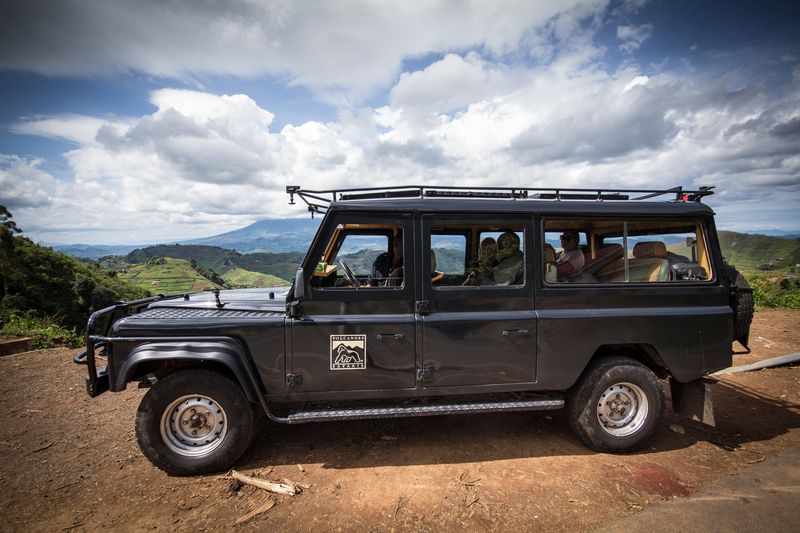 Our fleet of Land Rovers and guides is at your disposal…
Our vehicles are available for airstrip transfers and safaris to and from Kisoro, Kihihi and Kasese/Mweya in Uganda. Volcanoes Safaris has part of its fleet stationed at our lodges and are therefore available for last minute transfers and for the pick ups and drops offs for flying safaris.
The vehicles will continue to be dark green in colour and can be made available without the Volcanoes brand.  Companies making use of the service may place their own logo on the vehicles with magnetic stickers and/or wheel covers.
Volcanoes Safaris owns a fleet of 15 LandRover 4×4 TDI 300 Defenders. All of our vehicles have been professionally converted and extended in both length and width to ensure optimum comfort on all terrain for our clients. They comfortably seat 5 people excluding the driver.
Please note that our vehicles are not air-conditioned. We are an eco-tour company and therefore aim to reduce fuel consumption to minimize impact on the environment. The nature of safari also means that the 3 padded viewing hatches are regularly open for optimal game viewing.
The hire cost is of US $170 per day, VAT inclusive. This fee includes the use of the vehicles for 24 hours and the driver/guide allowances. Fuel costs are to be borne by the hirer.
Please contact salesug@volcanoessafaris.com for more information