Volcanoes Safaris participated in its 2nd British Airways Charity Shield Tournament on 1st March in Kampala, Uganda. Twenty four companies fought to win medals for their team players and the trophy in this fun competition.
The Volcanoes Safaris team marched out onto the pitch, chests thumping, clad in our green Gorilla Tracking T-Shirts. Our pool was considered the "Group of Death". We came away with 2 wins, including a friendly against Madhvani Group and scored four goals.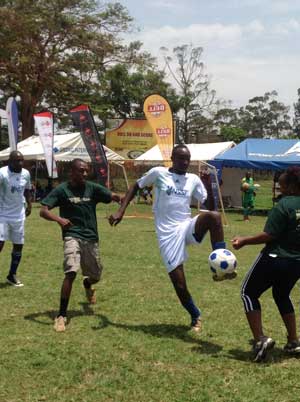 The match against G$S had the feel of a cup final, complete with high tension, player rivalry incessant cheerleading, footballing genius and in the end, victory for team Volcanoes! Thanks to our goalkeeper Daniel every attempt at scoring a goal by G4S was thwarted.
Our strikers, Paul Kasami and Simon infiltrated the G4S defense. The midfielders Joseph, Farouk, Dennis and Gerald skillfully passed the ball. The female strikers and defenders Agnes Mugume, Betty Nassuna and Winnie helped to keep the ball out of our own goal as we managed to score the winning goals. At the sound of the final whistle, the team and cheerleaders ran across the field in triumph.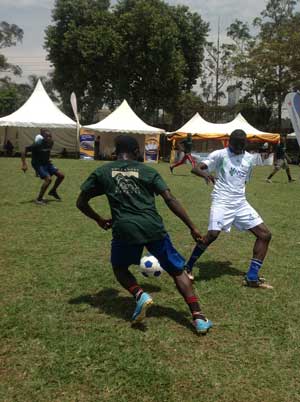 The tournament was in aid of raising funds for the Brass Africa charity and Comic Relief. These donations will help to give street children access to education and a better life.
The Civil Aviation Authority won the tournament and took away the charity shield trophy and medals for all its players. Volcanoes Safaris thanks British Airways and The Corporate League Uganda for organizing the event and giving back to the community.