Don't you love how football brings everyone together?
During the holidays, the Volcanoes Safaris Partnership Trust (VSPT) at Kyambura Gorge Lodge organised and hosted a friendly football tournament between the community teams at the Empundu Community Playground, adjacent to the lodge.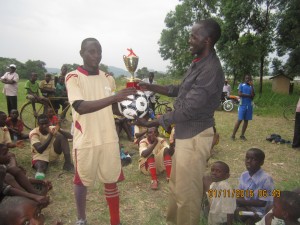 As the game played out, you could see the passion in the eyes of the players battling it out on the pitch. Just like professional players, they still managed to smile at each other, despite their eagerness to beat the other team (Ugandans are famous for their winning smiles!)
At the end of the tournament, the participating teams were each given 10 footballs, so they could return home and keep practising for next year's tournament. The two winning teams walked away with new football kits. The trophy went to the happy winners.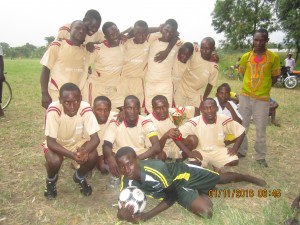 This was one of the highlights of the Christmas and New Year holidays for the village, thanks to funding from Volcanoes Safaris' clients who support the Volcanoes Safaris Partnership Trust.
The football tournament at the Empundu Community Playground is just one of the VSPT's projects. The playground is built on land purchased by the VSPT and provides a safe environment for local children to play and a focal point for the local community.
Other VSPT projects at Kyambura Gorge Lodge include the Omwani Women's Coffee Cooperative and the Omumashaka Drama and Dance Group.
The Volcanoes Safaris Partnership Trust actively supports and develops a wide range of community projects. We are immensely proud of the committed VSPT staff at each of our lodges.
Volcanoes Safaris guests are warmly encouraged to visit these projects while staying at Kyambura Gorge and our other three lodges. If you have any questions about VSPT activities, or would like to support our community work, conservation efforts, or Uganda and Rwanda eco-tourism, we would love to hear from you.