World Record Attempt of the Longest Individual Cricket Net Session, Kigali Rwanda 11-13 May
In an exciting collaboration, Rwanda Cricket Stadium Foundation (RCFS) and Volcanoes Safaris, owner of Virunga Lodge, one of Rwanda's most exclusive lodges, are organising a Guinness world record attempt of the longest individual net session by the Rwanda National team Captain Eric Dusingizimana from 11 to 13 May in Kigali.
The net session is part of RCSF's work in using the essential values of cricket to enrich the lives of young Rwandans in schools, universities and disadvantaged communities.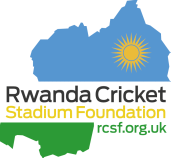 The Guinness world record attempt is scheduled to take place at Amahoro National Stadium (Petit Stade), to start on 11th May 2016 at 8am and stop on 13th May 2016 at 11am. The main event and the opening session will take place on 11th May at 8am.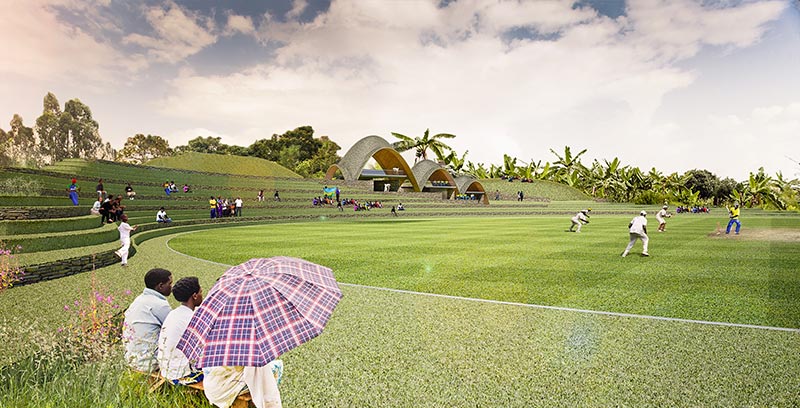 Please join us in this fun but serious attempt – be part of the RCSF Guinness World Record Attempt! You can do this in person at the Amahoro Stadium in Kigali between 8 am 11th May and 11 am 13th May.

Captain Eric will attempt to break the world record by batting non-stop for 51 hours. The event is part of a series of events that RCSF are organising to fundraise for the building of the first Cricket Stadium in Rwanda.
In September 2014, the Rwanda Cricket Stadium Foundation recorded their first Guinness World Record in the Highest-altitude cricket match "Mt. Kili Madness" which was played at 5,752 m (18,871 ft) above sea level, in a dormant volcano crater on Mount Kilimanjaro, Tanzania.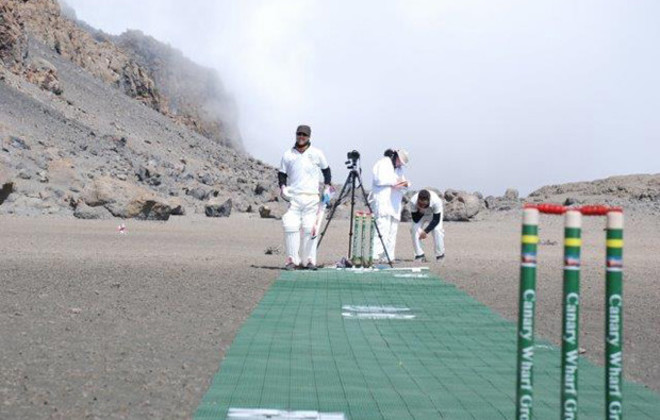 The RCSF is building a future for cricket in Rwanda.
Cricket was barely played in Rwanda before the 1994 genocide. Now there are 7,000 players nationwide, and the sport brings communities together in the healing process.
The objectives of this Guinness world record attempt are:
1. To raise awareness for Rwandan Cricket
2. To fundraise for construction of Rwanda's first international cricket stadium – click on the link for more details about the new cricket ground which will be constructed on a 4.5 hectare plot on the outskirts of Kigali.
3. To break the world record by batting non-stop for 51 hours
"Our mission is to construct and manage a not-for-profit international standard cricket and sports centre in Kigali, Rwanda, that will operate a 'sport for all' policy, allowing Rwandans from all backgrounds access to cricket." Protais Mitali, Minister of Sports and Culture, Government of the Republic of Rwanda.
Alby Shale, Project Director, RCSF writes: "Our ultimate ambition is reconciliation through sport, and we work in partnership with SURF, a survivors' fund charity that deals with post-traumatic stress, health and economic issues faced by the adults who lived through the genocide. Roughly 20,000 children in Rwanda were born to women after they were raped during the genocide. RCSF will use new facilities to run courses helping these families, while the national team has the potential to serve as a symbol of integration and reconciliation."
The Rwanda Cricket Stadium Foundation recently featured in the UK's Telegraph newspaper in an article entitled Field of Dreams.

Save the date: 11/05/06
Where: Petit Stade#GWR Attempt
Come build a new home for #RwandanCricket pic.twitter.com/pjjtpvZQmr

— RwaCricketAssoc (@RwaCricketAssoc) May 5, 2016
If you can't make it to the stadium in person this week, there are many other options for supporting this brilliant project.  You can donate to Rwanda Cricket Stadium Foundation online or you can contact RCSF directly to see other ways in which you can support them.
Volcanoes Safaris have been active supporters of the Rwanda Cricket Stadium Foundation for many years and Founder Praveen Moman will be at the Amahoro National Stadium (Petit Stade), egging the team on from 8 am 11th May 2016.
For live updates from this exciting Guinness World Record Attempt, please follow Volcanoes Safaris on Twitter.