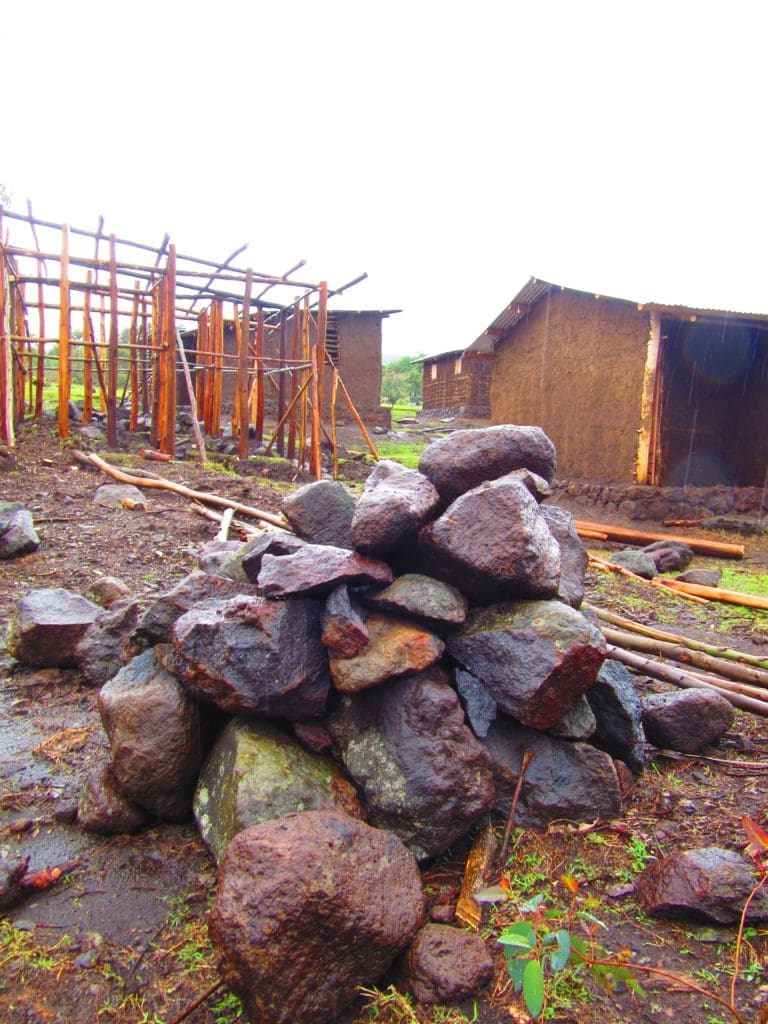 Gahinga – In the Rufumbira language spoken by the Batwa, meaning 'a pillar of stones.'

But how do you make a pillar of stones?
It's not a trick question, you simply start with the foundation.
The indigenous Batwa are building their own pillar of stones. For as long as they can remember they have lived in the forest under the Virunga Volcanoes among the gorillas, elephants, and water buffalo. When the Mgahinga Gorilla National Park became a protected area to help preserve that ecosystem, twenty six years ago, the Batwa were displaced.They had to transition to life outside the forest.
The drastic change from living symbiotically with the forest to an agricultural life has been challenging. "We are excited to have our own land with homes and a place to farm. We wish for sustainability," stated Jane Nyirangano, Batwa Chairperson. They are currently amidst laying the first stones for their community's sustainability.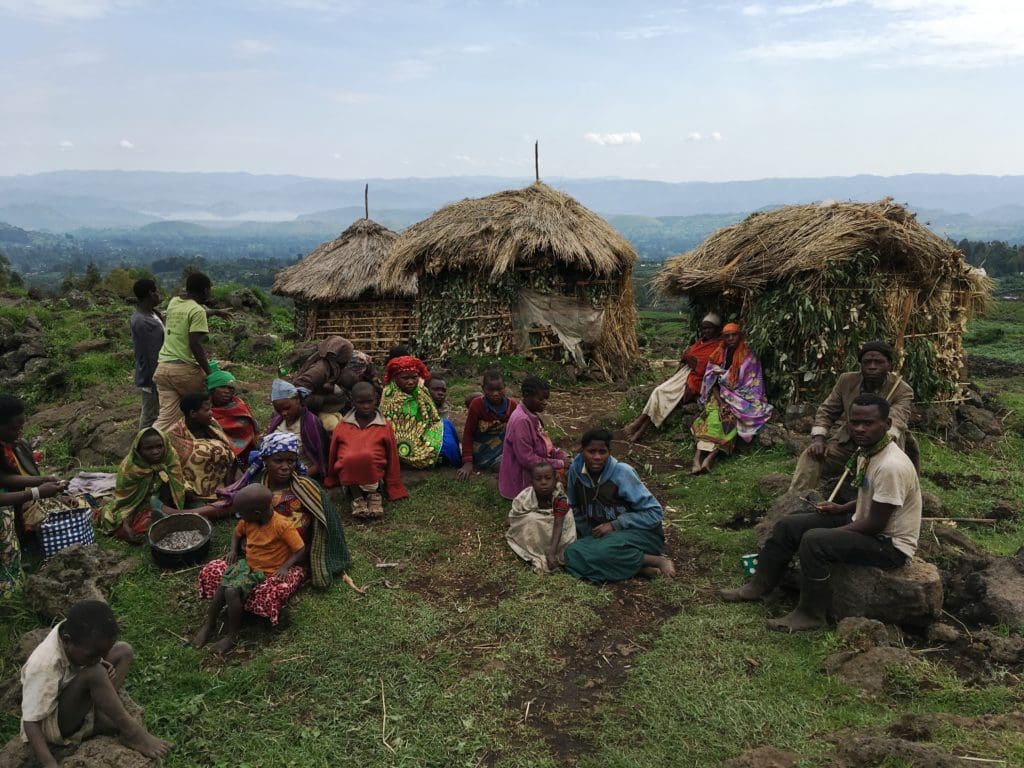 Through funding and donations by Volcanoes Safaris and VSPT, land and materials have been provided to the Gahinga Batwa to build a permanent settlement. Once completed, the community of about 100 will have 18 homes on 10 acres of land for farming and a community center. There they will be able to continue practicing their traditions and remain a community. The settlement is a 30 minute walk through the countryside from our Mount Gahinga Lodge. More importantly, the settlement will be close to the local school, as opposed to the current 7km distance. They will move to the settlement early spring 2018.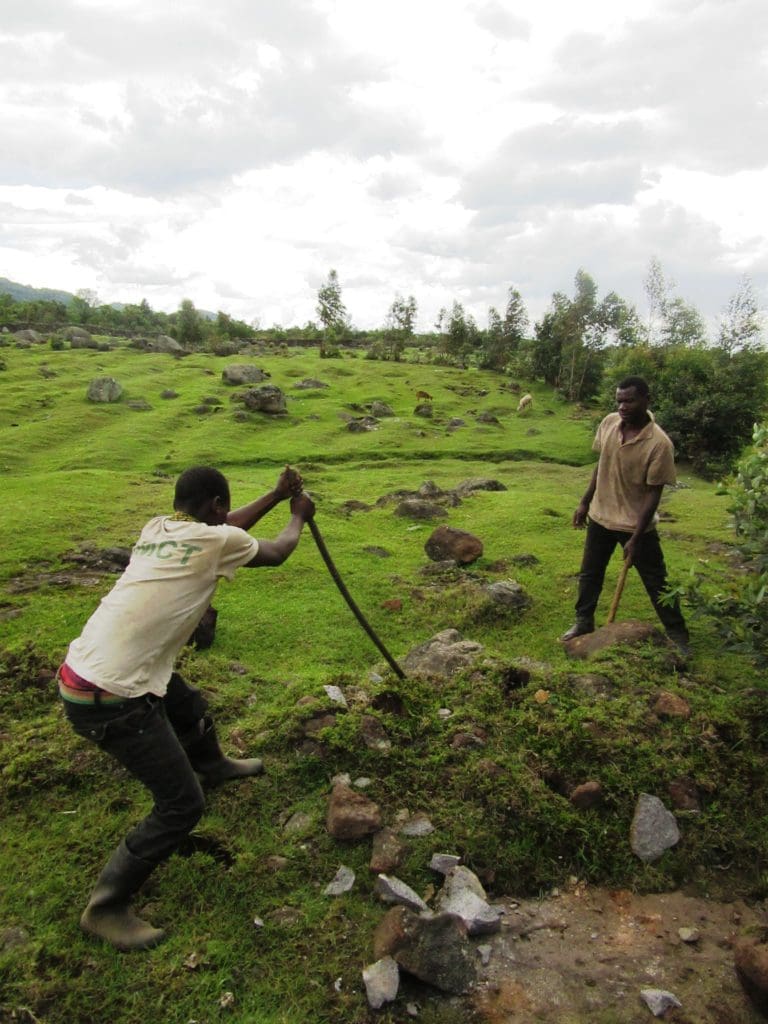 But until that date, the Batwa are working hard to make their dream a reality, six days a week, rain or shine, often having to undertake strenuous manual labor. The Batwa have been eagerly tackling this project with hope. "The work is easy when it is to build our own homes," said Kabwana.
First, they must clear the many volcanic rocks strewn about their land. This requires levering heavy boulders from the ground and hammering them into manageable sizes, which they will carry on their heads to make a 'Gahinga.' A foundation of rocks and murram will be laid for the floor and sturdy eucalyptus and gumpoles will provide the skeleton structure. Clay that binds well is carried 3km to be mixed with water to create the walls. Finally, wooden window shutters, doors, and a metal sheet for the roof will make it a home. Once completed, they will have their own 'Gahinga', a beautiful pillar built by their own hands, a home for generations.
"For now, we move forward." – Safari, Batwa member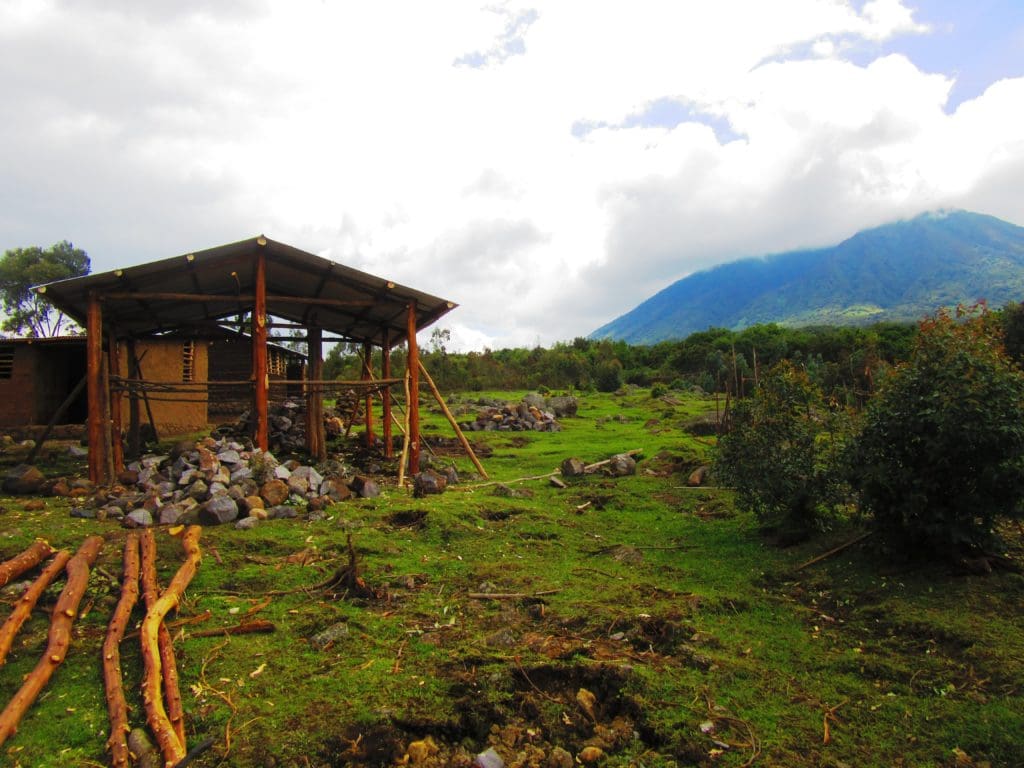 The VSPT is funding the settlement, supported by client donations to ensure steady progress. To donate please click here.
Stay up to date on the Batwa Settlement's Project by following our social media channels.