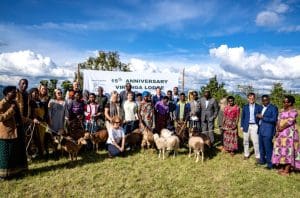 Virunga Lodge, Rwanda, 18 November 2019.
Virunga Lodge celebrated 15th anniversary and unveiled plans to re-imagine the property.
This is part of the strategic program to re-imagine all aspects of Volcanoes' lodges.
Praveen Moman, Founder Volcanoes Safaris said:
"Rwanda today is open to the world and a leader in conservation and tourism. It is a pleasure to see this transformation in the country. We appreciate the cooperation from the Rwandan authorities at all levels over the last fifteen years and the strong partnership we have had with conservation and community organisations.
To celebrate the fifteenth anniversary of Virunga Lodge, today we are proud to unveil plans to re-imagine the lodge while keeping the special Rwandese Afro-chic style that we developed over the years, evolving its timeless hand-made decor to meet the needs of today's luxury traveller."
The event was held in the presence of the Virunga community, Government officials, conservationists and diplomats, including Joseph Munyaneza – Vice Mayor in charge of Social Affairs Burera District, Northern Province, Eugene Mutangana – Head of Conservation RDB, Prosper Uwingeri – Volcanoes National Park Chief Warden, Peter Vrooman – US Ambassador to Rwanda and Jo Lomas – British High Commissioner to Rwanda.
New Sewing School and Community Café
Virunga Lodge supports the local community through long-term, self-sustaining projects which enrich the livelihoods of the local Sunzu and Kinoni villages. As part of their stay at Virunga Lodge, guests can experience the projects and share in the lives of the local community, including the Water Tank Project and the One Sheep Per Family Project.
Volcanoes Safaris is excited to announce the launch of the new Virunga Sewing School and the new Virunga Community Café.
Click to view the sketches of the Re-Imagined Virunga Lodge.
Click to view photos of the 15th Anniversary of Virunga Lodge event – courtesy of Roger Hyde.