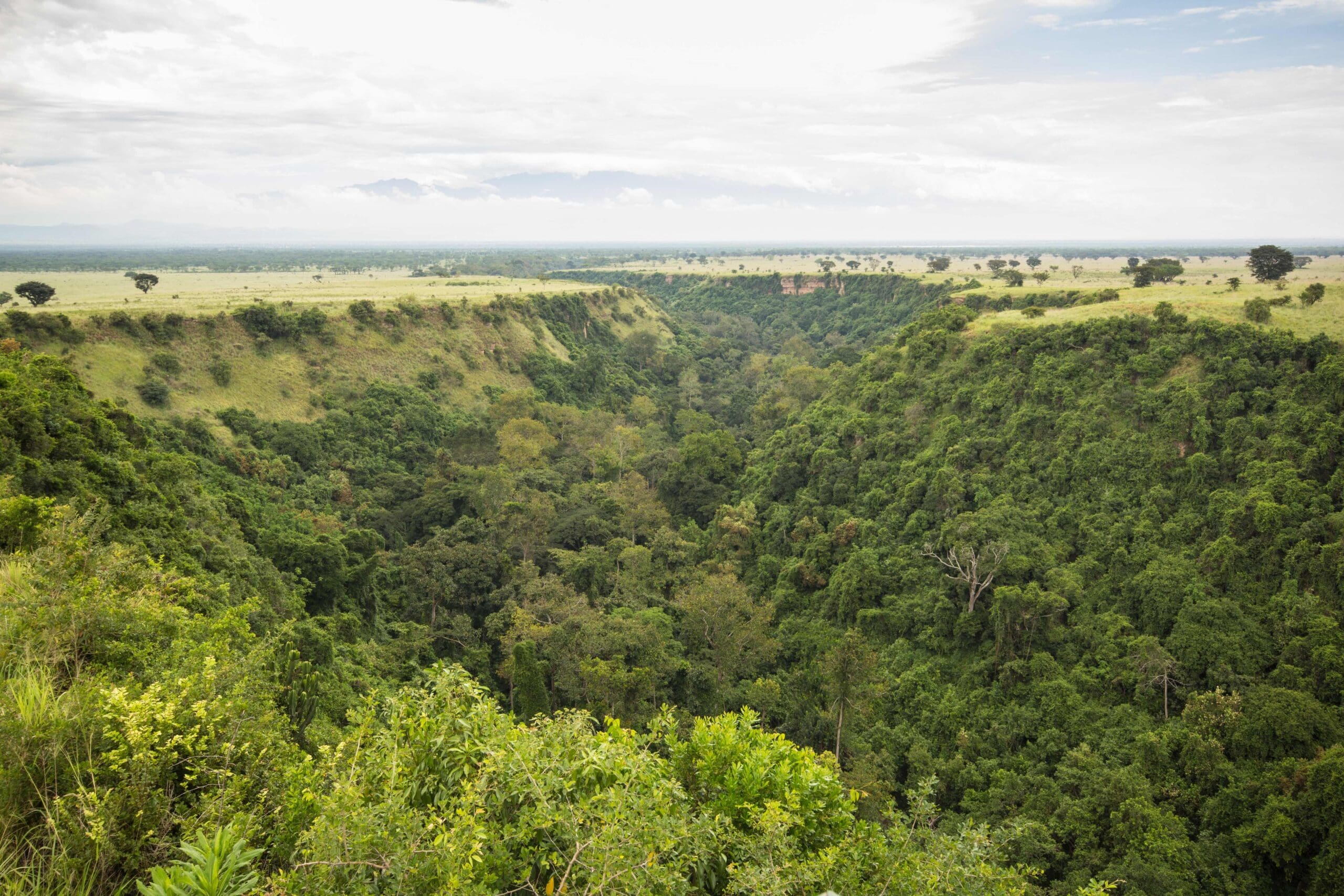 We are delighted to announce the opening of the Kyambura Fig Tree nature walk; a direct trail which directly connects guests at Kyambura Gorge Lodge to the Kyambura gorge to trek the chimpanzees.
In conjunction with Uganda Wildlife Authority, this new nature walk has been planned and built to allow guests at Kyambura access on foot to the park and the gorge. The trail starts off at the lodge and crosses over the community elephant trench, before passing over a short rise to reveal the beautiful landscape of Queen Elizabeth National Park, with the Rwenzori Mountains on the horizon.
On the walk to the gorge you can see elephants, colobus monkeys, a variety of birds including the palm-nut vulture and the long created eagle, and maybe a leopard if you are really lucky! The adventure continues as you drop into the gorge in search of the "lost chimps of Kyambura" and look for the elusive group of 30 chimpanzees who live in the magical sunken rainforest.
On the way back from the gorge you can visit the Kyambura wildlife buffer zone, a 4km stretch of land which has been purchased by Volcanoes Safaris Partnership Trust to protect the wildlife in the gorge and the communities living nearby. By reducing the human-wildlife conflict the buffer zone protects both humans and wildlife. Every guest is invited to contribute to the buffer zone by planting a tree!
Thank you to Stephen Masaba Director of Tourism, Pontius Ezuma Chief Warden of Queen Elizabeth National Park, and all other Uganda Wildlife Authority staff who worked with Volcanoes Safaris to make this project a success. It was a pleasure to host you for the celebration evening at the lodge!
To book your safari at Kyambura Gorge Lodge contact enquiries@volcanoessafaris.com.
For more info on Volcanoes Safaris Partnership Trust community and conservation projects please see follow this link.