[vc_row][vc_column][vc_column_text]
The Wall Street Journal, Deborah Dunn, November 2019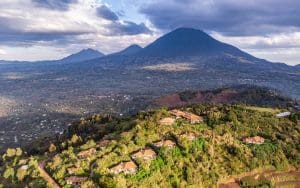 Gorilla Treks in Rwanda: A Bucket-List Must
The country's mountain gorillas are luring an upscale crowd, generating funds that help sustain the rare apes. Finally, a wildly extravagant vacation you can feel good about.
(…)
Staying There: Several of the 35 hotels—and counting—near Volcanoes National Park contribute to various community and conservation projects. Among them: Virunga Lodge, about an hour's drive from the park, offers 10 elegant cottages with private terraces.
(…)
A pioneer on the accommodations scene, Virunga Lodge opened in 2004, perched on a mountaintop with panoramic views of six volcanoes and two crater lakes. After the treks, guests tend to get massages at the lodge's spa, then assemble around the stone fireplace for cocktails before dinner.

[/vc_column_text][/vc_column][/vc_row]