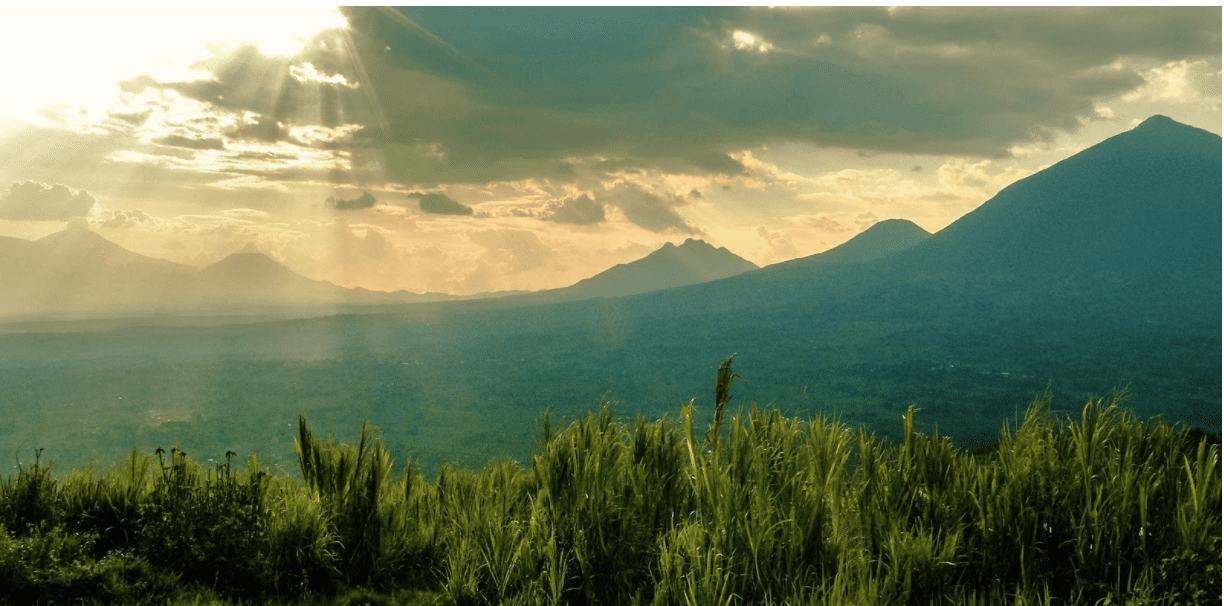 The following is an excerpt from John Fowler's published book, A Forest in the Clouds: My Year Among the Mountain Gorillas in the Remote Enclave of Dian Fossey.
A Safari Lodge in the Sky
I will never forget my arrival at Praveen Moman's wonderfully conceived Virunga Lodge.  As our vehicle wound its way up the serpentine trek, we rose up among the volcanoes as if in a hot-air balloon. The clamor of distant voices and animals from the farmlands below faded, drifting upward with the rising air.  It was nearing sunset, and each curve and switchback of the stony trek teased us with an ever more beautiful view.  Lakes Burera and Ruhondo, which I had before seen only from their tranquil shorelines, sprawled below and beyond in shimmering splendor. I had not realized until then how beautiful and expansive these waters are, nestled among a thousand hills.  
Upon reaching the summit, smiling attendants whisked us and our things to our quarters—to each our own spacious and charmingly rustic stone and stucco bungalow.  Only stepping onto what would be my private veranda, did I realize the full impact of the location and the care and planning given to this lodge's unique site.  There before me, loomed and sprawled the Virunga Volcanoes, and the home of the mountain gorilla, which years earlier I had come to know so well.  From that dramatic perch, I could again see the three countries of Rwanda, Uganda and the Democratic Republic of Congo tumbling away in all directions.  
In the distance, through the rain-washed air, I could clearly see the saddle area between mounts Karisimbi and Visoke where Dian Fossey had set up her aptly-named Karisoke Research Center.  As her assistant, I had come to know it well, and a flood of memories came rushing back to me, both bitter and sweet from that tumultuous time in Dian's fight to save the endangered mountain gorilla.  Over drinks and dinner in the lodge's lovely communal center that evening, each of our travelers raved about their views and living spaces, one rivaling the next.  The occasion of our trip was the 40th Anniversary of Karisoke, and from that splendid perch, we would be launching our treks to the mountain gorillas and my return visit to the site of Dian Fossey's camp and her final resting place.
I had already began fleshing out the bones of my book, A FOREST IN THE CLOUDS: MY YEAR AMONG THE MOUNTAIN GORILLAS IN THE REMOTE ENCLAVE OF DIAN FOSSEY.  Back at the Virunga Lodge each evening, from the inspiring vantage point that it provided, my story had come full circle.  In the memories and musings my return had triggered coming back from a day spent with the mountain gorillas, and the site of my one-time mountain home, I formulated the full arc of my story, and its closure from that safari lodge in the sky, the Virunga Lodge.
-John Fowler