'They are very close now,' said Boas, our Ugandan guide. 'Stick together, no sudden movements, no loud noises, no flash photography.' The moment had come. This was why I had spent 16 hours flying from London to Kigali, four hours driving from Rwanda to Uganda and two hours hacking through the Bwindi Impenetrable Forest — and never was a place more aptly named. I was about to come face to face with a family of mountain gorillas.
There are only 880 of this species of gorilla left in the world — that's one gorilla for every nine million people — and they are all located in the volcanic region of central Africa that bleeds across Rwanda, Uganda and the Democratic Republic of Congo. About half are in this 272 sq km of rainforest, one of the most bio-diverse regions on earth. To protect the gorillas, the forest was turned into a National Park in 1991, which means you cannot get close to them without purchasing a $600 permit, or if you're in Rwanda, a $1,500 one. (Most tour companies prefer to be paid in US dollars.)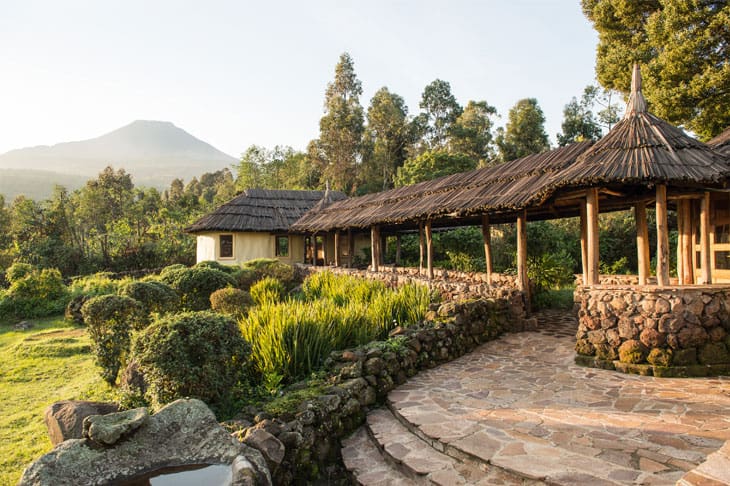 You are only allowed to enter Bwindi Impenetrable Forest in groups of eight or fewer, not including the porters and guides, and your time with the gorillas is limited to one hour. That's assuming you can find them. There are trackers who monitor their movements 24/7 and communicate with the guides via walkie-talkie, but it's impossible to second-guess their whereabouts from one day to the next. Some gorilla tourists don't emerge from the forest until after midnight, having set off at 8.30am. So we were lucky to come across the group we were tracking after only two hours. Having said that, we had been hiking up a steep gradient at high altitude in heavy rain through some of the thickest vegetation I have ever seen. Our guides had to clear a path through it with machetes, and calling it a 'path' is misleading —it was still strewn with brambles and nettles.
I'm not sure I could have managed more than two hours of hiking, not forgetting we had to make our way back down again afterwards. I had hired a porter to carry my backpack for a cost of $15 and she kept offering me her hand, but as she was a woman and about half my size I thought it would be unchivalrous to ask for help. Others in my group were less inhibited and one woman had a porter behind her pushing her bum up the slope and a porter walking backwards in front of her, pulling her by both hands. Stretchers were available for those who really couldn't manage, but the price was $300.
'Okay, very slowly now,' said Boas, creeping towards a sunlit glade in the forest. 'No pointing, and if the silverback looks at you remember to look away.'
That was one of the cardinal rules our guides had impressed upon us — don't look the silverback in the eye. If he thinks you're challenging him, he might charge you or worse. The manager of the Mount Gahinga Lodge, one of the lodges owned by Volcanoes Safaris, the tour company I was with, had told me he'd been charged by a silver-back. 'I was shaking for hours afterwards,' he said.
I peered into the clearing, unable to see anything at first and then spotted a couple of dark shapes about ten feet away. Was that them? Suddenly, one of the shapes stood up and stretched and, sure enough, it was a gorilla. Soon, others appeared, including a couple of babies and it became clear we were looking at a family group. Boas whispered to me that the name of this family was 'Rushegura'. 'There are 14 in the group and the silverback is called Kabcujo,' he said. 'Look, there he is in that fig tree.'
Sure enough, there was the silverback, looking on impassively, occasionally stretching out his arm to pluck a fig from the branches. We gawped at him in spite of the strict instructions, but thankfully he remained indifferent. Perhaps he realised that eight western tourists, all pointing their smartphones at him, were no threat.
It was an extraordinary feeling watching this family of gorillas, among our nearest relatives in the animal kingdom. It was as if we were spying on them through a secret portal, except they knew we were there and would occasionally stop and look at us. I was expecting them to be more aggressive and scary-looking, but they were gentle and slow-moving, less like miniature versions of King Kong than stuffed toys come to life. Then it struck me what it was they reminded me of — a teddy bears' picnic.
Both Uganda and Rwanda have taken a gamble in throwing their weight behind gorilla tourism, fencing off vast areas and limiting the number of permits they issue to a few thousand a year. Rwanda in particular is banking on high-end tourism bringing in more money than mass tourism — perhaps not surprising, given that it is landlocked and hilly, with no obvious appeal to families looking for an affordable holiday.
But it's a strategy that appears to be paying off, thanks in no small part to the enthusiastic collaboration of entrepreneurs such as Praveen Moman, who owns Volcanoes Safaris. He left Uganda as a child when Idi Amin kicked out the Asians in 1974, but returned in 1997 and started a safari company. I stayed in three of his four lodges — one in Rwanda and two in Uganda — and they were all magical, with top-of-the-line service, magnificent views and an attention to detail that included a hot water bottle in your bed at night. When I returned from golden monkey trekking in Mgahinga, a kind of dress rehearsal for the main event two days later, I was soaked through thanks to a torrential downpour. But my personal 'butler' brought me a hot cup of cocoa, which was just what the doctor ordered.
Most eco-tourists fly to Kigali in Rwanda because it's nearer to the gorilla parks, including those in Uganda, which are just across the border. Driving from Kigali to Mgahinga takes about four hours and you then have to get a small plane if you want to go on to Bwindi, so staying in Rwanda and heading to the Virunga National Park is the easier option. But the price difference between the Rwandan and Ugandan gorilla permits can make the Ugandan excursion worthwhile, particularly if there's more than one of you. The cost of staying in the lodges is a little bit cheaper in the low season — March to May — than in peak season, which runs from June to September. But beware: the reason it's cheaper is because it rains every day (although not continuously). The gorilla parks are only a few degrees south of the equator and the climate is semi-tropical.
The best thing about the experience is the sense that you're on a real adventure. You're accompanied by two guards armed with AK47s, ready to 'scare shoot' if a forest elephant, or a bad-tempered silverback, decides he doesn't like the look of you. The hike up to where the gorillas are is no cakewalk, and if it's raining the hike back down again is even more difficult, with the ground underfoot slippery and wet. Afterwards, as you sit on the veranda of your safari lodge sipping your cocoa, you feel as if you've really achieved something. Seeing the gorillas in their natural habitat should be on everyone's bucket list and I wouldn't have missed it for the world.
Mount Gahinga Lodge costs from £157 per person, per night, all inclusive; Bwindi Lodge from £254pp and Virunga Lodge from £373pp.