Fodor's Travel, Johanna Read, August 2019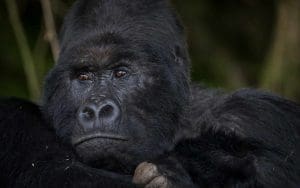 Here is everything you need to know about trekking with the endangered great ape—and helping increase its population.
Though an endangered species, the number of mountain gorillas in the world has quadrupled in the past 40 years. Understanding the interdependencies between these gentle giants, the people that live near them, and the tourists that want to see them is essential for protecting them and keeping the population rising. Here's what you need to know to see and help mountain gorillas.
(…)
Tourism Is Essential for Saving the Gorillas
Travelers who want to promote responsible tourism shouldn't balk at pricey permit costs, as it, directly and indirectly, protects the animals. A portion of the permit cost goes to the park rangers, veterinarians, and trackers who ensure the animals' health and safety. Another portion goes to help nearby communities, where the benefits are indirect but equally essential to protect the endangered species.
Habitat loss is one of the biggest risks to mountain gorillas. Humans living near the gorillas need land for subsistence farming and firewood for cooking. The money you spend on your trekking permit, hotel, food, activities, and souvenirs helps ensure people have clean water, enough food, cooking fuel, healthcare, education, jobs, and a stable political environment.
Gorillas improve the economies of the three countries where they live and create a vested interest in further protecting them. When tourists spend their money directly in at-risk communities, it ensures local people benefit from tourism, minimizes risks of resentment and disenfranchisement, and builds an interdependent and sustainable tourism industry.
(…)
Where to Stay
Volcanoes Safaris has three luxury lodges near the mountain gorillas. In Rwanda, Virunga Lodge is on the edge of Volcanoes National Park and was instrumental in relaunching Rwanda's gorilla trekking. Across the border in Uganda is Mount Gahinga Lodge at the base of the Virunga Volcanoes and which supports the Gahinga Batwa community. In Uganda's Bwindi Impenetrable Forest is Bwindi Lodge, which was renovated in 2018. Stays include complimentary daily post-trek massage.
Wherever you stay, pack for chilly nights at altitude; temperatures can dip into the low 40s overnight. Upscale rooms usually have fireplaces, but hot water at some lodges, even high-end ones, can run low at peak times. WiFi and battery charging are often only available in main lodge buildings, even at top hotels.
Many travelers need a layover in Entebbe, the airport suburb of Uganda's traffic-congested capital, Kampala. The Gately Inn and its lush gardens are just 10 minutes from the airport. The boutique hotel is popular for its comfortable cottages and excellent open-air restaurant and coffees. Stay on the way to or from your gorilla trek, or perhaps both.
Click here to read full article.