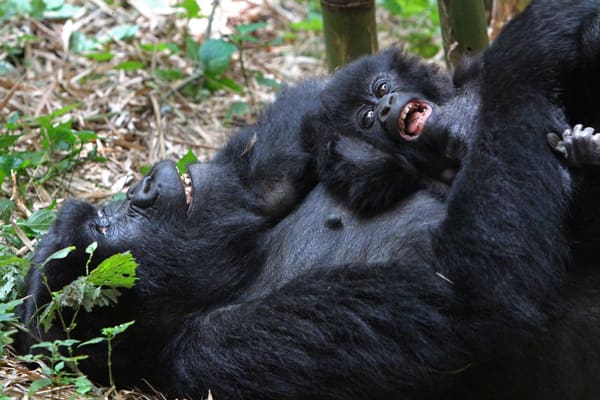 There's only one place in the world where you can look at mountain gorilla in the eye, Where you can see downy-furred kids giggle mischievously as they tumble in the tress, attempting to do handstands while adults watch peacefully on.
Where you're able to witness teenagers grab branches in their fists and playfully poke each other, their brown eyes wide with excitement. Or view the machismo of a large male as he stands tall and loudly beats his cheats – making us aware of his strength and authority, and unashamedly posing for our cameras.
That place is the Virunga Mountains, a chain of the volcanoes that runs along the north of Rwanda, the south-west of Uganda and a stretch of the eastern Democratic Republic of Congo.
Around 800 mountain gorillas live across the region – and that's the entire global population. Ten years ago there were fewer than 600. Only this month, the Rwandan government came under fire for the doubling the fees for gorilla encounters from $750 to $1, 500 a head but it's worth remembering that tourism, along with regional stability is to thank for the upturn providing money towards conservation while also helping local communities to develop. Direct flights from Gatwick to Kigali – while launch next week with RwandAir – will help sweeten the blow too.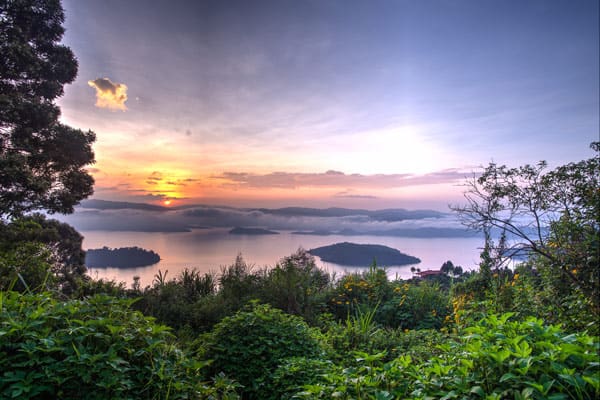 I am travelling with Volcanoes Safaris , which has for a long time laid the groundwork for tourism in the area and which continues to work harder than most to promote the region, fund communities and safeguard the gorilla population. Founder Praveen Moman was the first person to open a lodge in the region, in 1997.
We meet our guide at Kigali airport Rwanda and from there it's a three-hour drive to our first stop, Mount Gahinga Lodge, just across the border in Uganda.
Safaris are a hot, sticky business – especially the on foot type , which invoice traversing through dense forest for hours at a time. It's a good reason, then that the lodges you return to afterwards offer luxury to balance it out. Mount Gahinga has five-star service teamed with eco credentials – the water is heated by solar panels and there's no swimming pool as the area is prone to drought.
As well as gorillas, the lodge is perfectly places for a trek to find golden monkeys, another species which cannot be found anywhere else in the world. After a night's stay we leave early to find them at their most active. It's around tow hours into our trek that our gun – toting guide relays the good news: the rangers who have gone ahead have spotted them.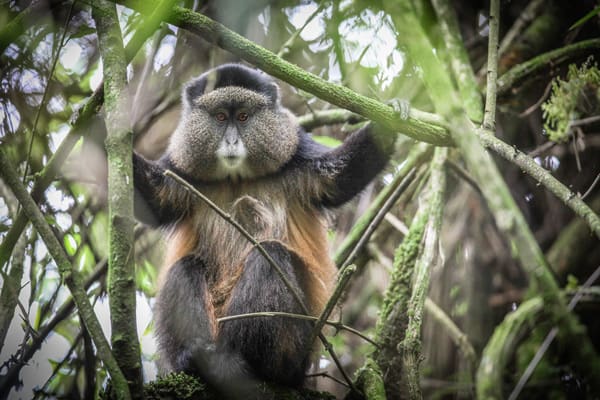 All of a sudden we were there: deep in the forest watching a group of around 30 monkeys swing through the trees, teasing us with glances of their blue-grey framed by golden orange manes.
The lodge is also well placed for volcano trekking, with the reward of a swim in a mountain-top lake for those who take on the eight-hour round-trip up Mount Bisoke. Instead, we use the day to relax in preparation for what's to come.
We move to Virunga Lodge, a short drive away back in Rwanda, for the next part of our adventure. It is newer, larger and even more luxurious than the previous one, perched at high altitude overlooking the volcanoes, as well as Lakes Bulera and Ruhondo.
Not that we have long to enjoy it. The next morning we're at the national park, where we're allocated a gorilla family before embarking  in a group of eight. Rangers have gone ahead and will radio our guide when they find the family. When we get to them, we'll have one hour before we must leave.
As we walk, our guide relays stories of encountering rebel groups on their way through the frets from nearby Congo, and explains how the rangers recognise each gorilla from their face alone – the animals are not tagged.
The hours pass quickly and before we know it the gorillas are ahead. We can hear their calls before we turn a corner and take in a family of at least 12. They are a hive of activity and sit just feet away from us. It's awe-inspiring, and remarkable how human-like they are.
It's important to remember, unlike a couple of the people in our group, to take in some of the spectacle with your eyes not just your camera: these are the kind of moments you'll remember forever. The hour flies by. And, thanks to the enduring buzz, so does the three-hour hike back to base camp. Now is the time to take in the views and the drinks, though there will only be one thing you'll want to talk about.
We vow we'll be back – and lets hope that when we do return, these magnificent primates will have passed the 1, 000 mark.
Ben Norum