A Forest In The Clouds: My Year Among The Mountain Gorillas In The Remote Enclave Of Diane Fossey, John Fowler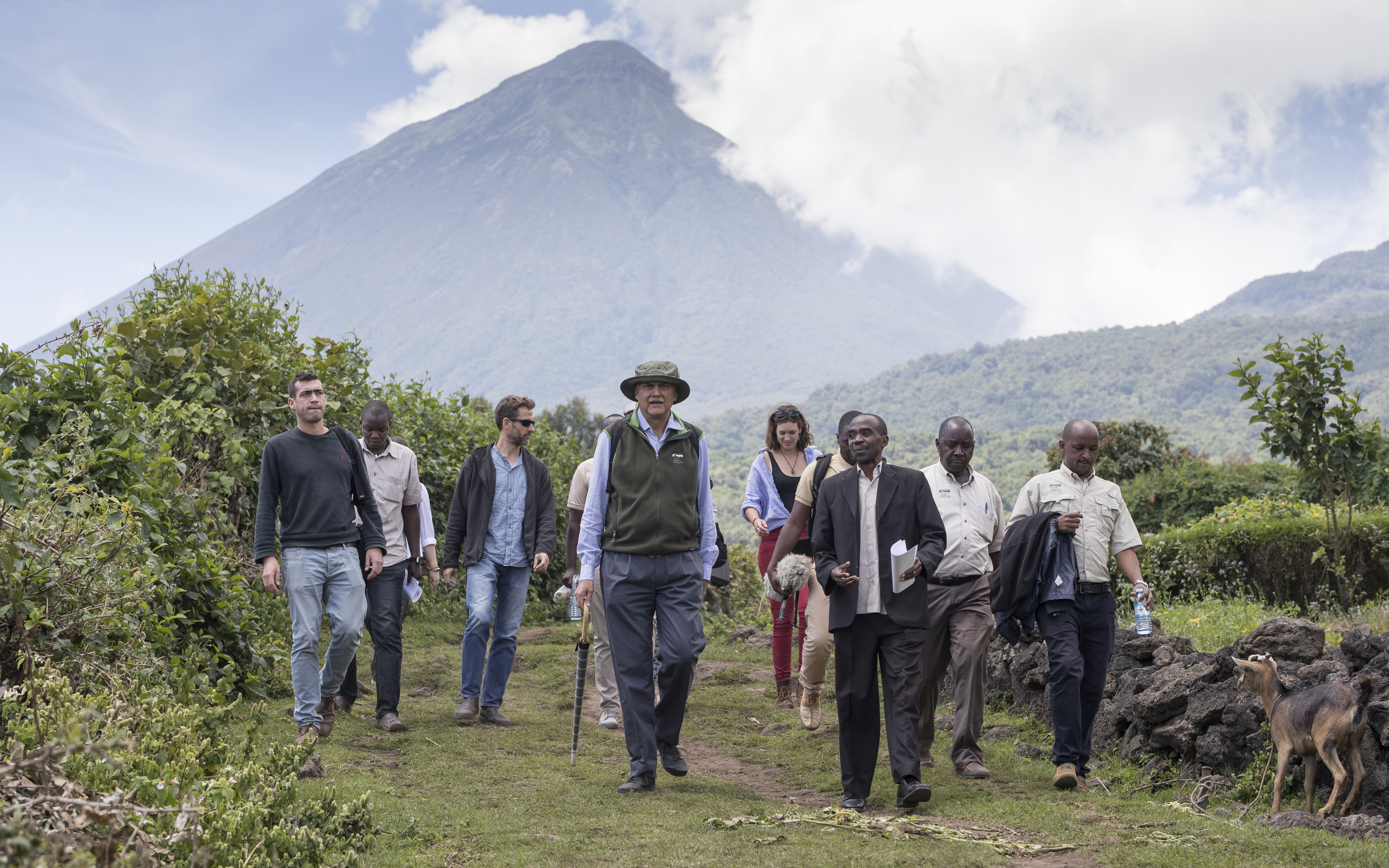 When I was a student at Dian Fossey's Karisoke Research Center in 1980, I spent many days in the cool high forests of the Virunga Volcanoes. While out with the mountain gorillas, rarely did I encounter another human. Back then, even the one tourist trail in and out had scarce visitors in this corner of the world. Once, while perched with a group of our study gorillas upon the western slopes of Mount Visoke, I spied a pair of Batwa people travelling silently below me.
As I watched from above, I could clearly see a man carrying his forest quarry of a dead black-fronted duiker. The young boy who accompanied him carried a hand-crafted bow and arrow.  Except for the fate of the duiker, the scene looked benign, almost idyllic—a traditional father and son hunting together to provide food for their family as these people had been doing for centuries in these forests. I would write about this moment years later in A FOREST IN THE CLOUDS: MY YEAR AMONG THE MOUNTAIN GORILLAS IN THE REMOTE ENCLAVE OF DIAN FOSSEY.
Working at Karisoke Research Center, I had learned to view anyone hunting in these forests as a poacher, in opposition to our research and conservation efforts; Dian Fossey's battle with poachers was already becoming legendary. But in that moment on the mountain, I was spellbound, as if witnessing something from another time, as natural as a leopard with its quarry—pygmies on the hunt. But for the perilous state of the mountain gorillas, then estimated to be less than 250 remaining in the Virungas, subsistence hunting for common duikers and bushbucks may have had little impact if done sustainably. These forests, however, lush as they are with their rich volcanic soil and abundant rains, had become diminished in area, and like the mountain gorillas who shared this realm, the Batwa also struggled to adapt and survive in the face of the same shrinking natural resources upon which they too directly survived.
Years later, on a return visit to the Virungas I would find myself staying at Praveen Moman's wonderful Mount Gahinga Lodge, a cluster of beguiling papyrus-thatched stone bandas nestled at the foot of these dazzling volcanoes.  From that comfortable outpost at the edge of the forest, I viewed the Virunga mountains from its different perspective in Uganda, the lofty peaks of Muhavura , Gahinga and Sabinyo, reaching into the clouds in this corner where the three countries of Uganda, Rwanda and the Democratic Republic of Congo meet. The mountain gorillas roam here too, just like the Batwa have for centuries, where national borders and politics mean little to them. Our group of tourists were just visitors here, having come to glimpse this other world.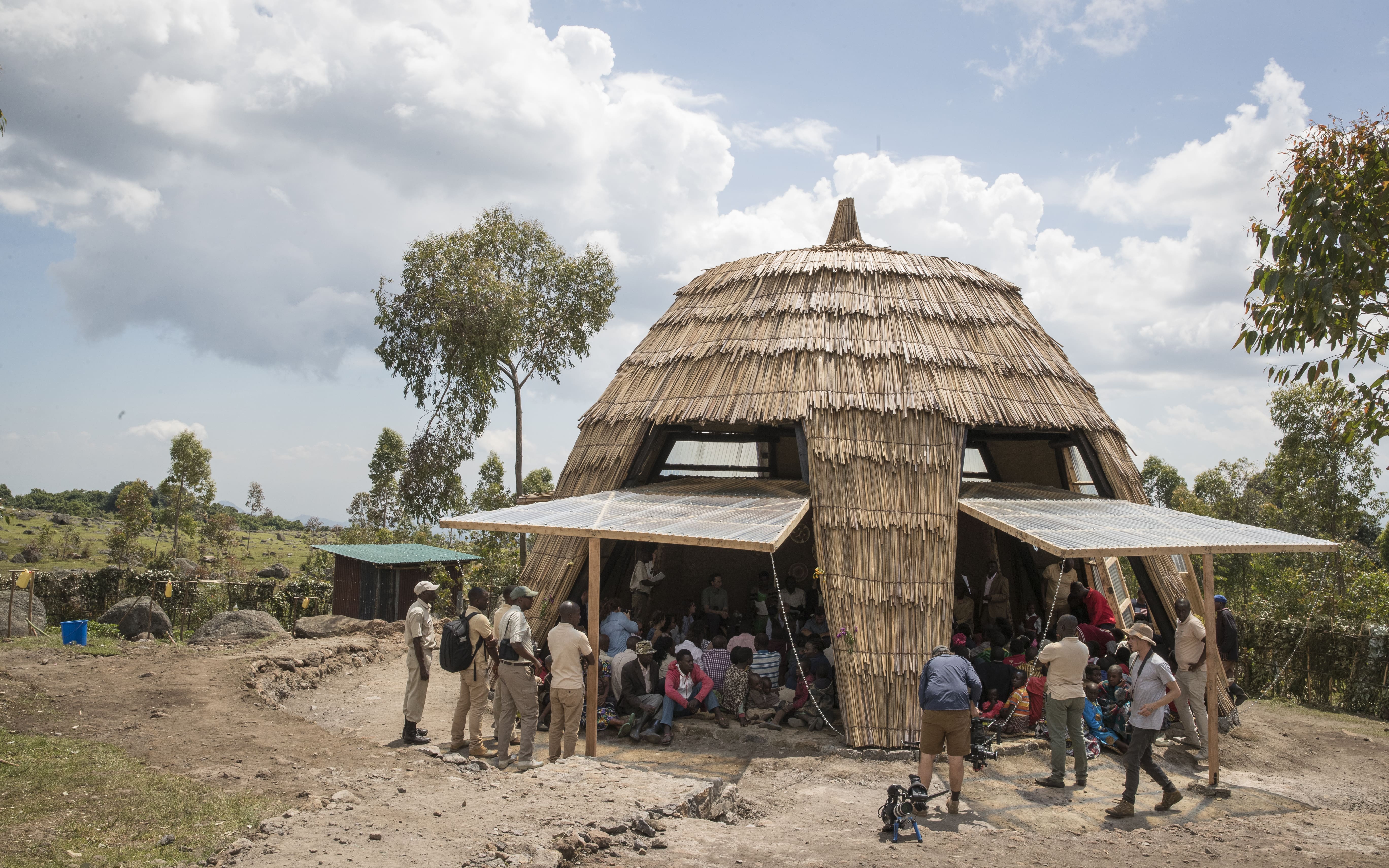 Bidding farewell to this enchanted place, as our group continued on our Volcanoes Safari toward the border into Rwanda, our van was pursued by a trio of diminutive kids, covered in dust. Our driver acknowledged that these were Batwa children.  The crust of dirt on the cheerful faces of the older two revealed that they had been at this task of begging from passersby for days. Any dignity their ancestors may have had in communion with nature and connection with their heritage was obscured by their condition. Only their undaunted smiles above outstretched hands gave witness to their resilience in adaptation for survival. I realized then just how little I knew about these people.
It is with great interest and admiration that I learned about Praveen Moman's successful effort to establish a home for the Batwa outside these precious forests, which have become protected national parklands.  Only then did I realize the impact all this change, in the effort to preserve, had on these people of the high forests.  Now I long to return to Uganda and the Mount Gahinga Lodge, nestled at the very base of the Virunga Volcanoes, from where I can make a foray to the Gahinga Batwa Village, entering their new and changing world to learn something of their past and future.