Elite Traveler, Emma Reynolds, May 2019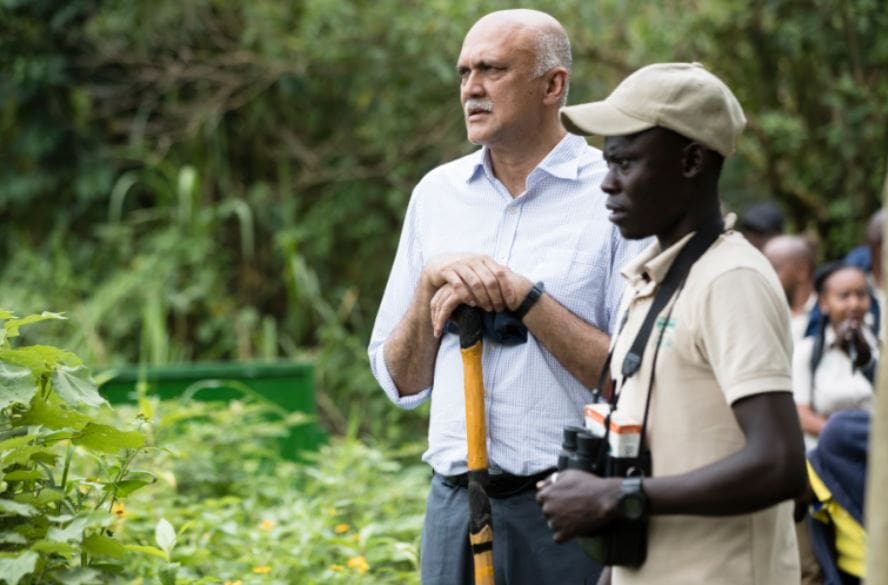 Praveen Moman, founder of Volcanoes Safaris, is a champion of tourism with a purpose. Moman and his family came from Asia to East Africa in the 1960s and Moman grew up in Uganda.
In the 1970s, his family was forced to leave Africa and move to the UK. He led a career in politics, working for the European Parliament and other heads of state. Moman was always beguiled by Africa, and after retiring from an official career in UK politics, he made his way back to Rwanda and Uganda to start Volcanoes Safaris in 1997 (he named the company after the several volcanoes in the area, two of which are still active). Since then, he has opened up four luxury lodge's across Africa. It's here he brings together the best in luxury and conservation tourism to create an unforgettable experience for guests, while simultaneously protecting the ecosystems of the areas. Volcanoes Safaris was the very first international safari company to take people through Rwanda (in 2000) and since then he has single-handedly revived gorilla tourism.
In addition to bringing people to see these endangered gorillas in person, Moman and his team launched a series of intensive conservation projects, including the Kyambura Gorge Eco-Tourism Project (launched in 2009) to safeguard this ecosystem. The project's main initiatives include: restoring 45 acres of wetland, building a tree nursery and reforestation project, bee keeping, a Kyambura women's coffee cooperative, a chimpanzee naming ceremony and a dance group, among others. The Volcanoes Safaris Partnership Trust (VSPT) is a non-profit through which this is all possible, connecting Volcanoes' Rwanda and Uganda lodges back to the community.
Moman sat down with Elite Traveler to talk about the renaissance of Rwanda, the importance of tourism in this area of the world and what he hopes to accomplish through eco-tourism.
Full article available at this link.