Red, Hannah Dunn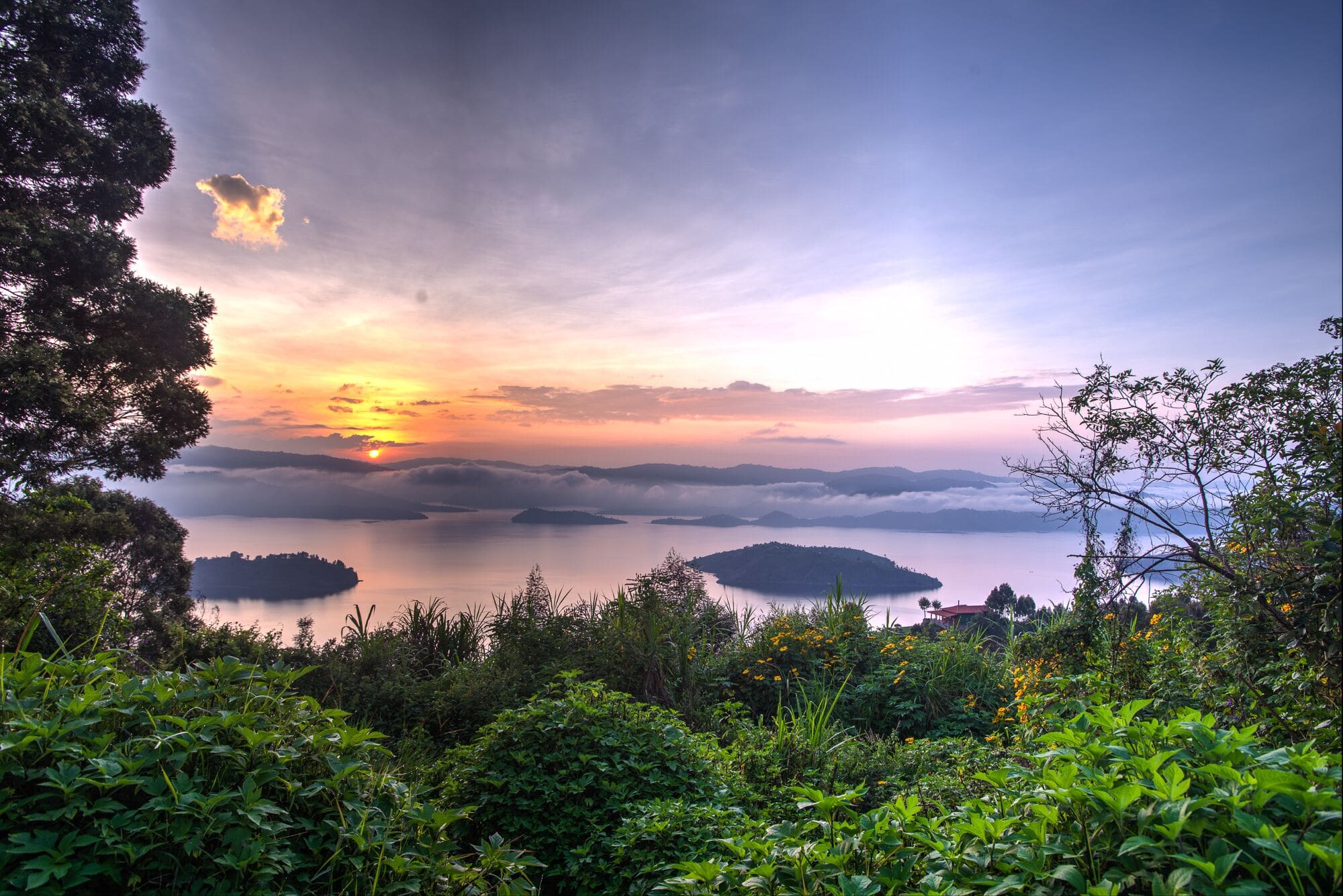 It's early on a grey morning and we're hiking steadily upwards. Despite our feet sinking into mud, rain splattering our hoods and the altitude leaving us breathless, there's excitement in the air. We're on our first trek of the week, hiking into the forests of Virunga Volcano in Rwanda to one of the only spots in the world that you can see mountain gorillas.
Trained rangers lead the way, with a team of gorilla trekkers miles ahead of us having started their climb at the crack of dawn. They're familiar with each other, and we watch open-mouthed as one trekker talks to a gorilla using sign language.
I have to admit, I had reservations about the experience, worrying that it might feel manufactured, touristy and invasive, but I couldn't have been more wrong. Nothing will prepare you for your first glimpse of a gorilla in the wild: majestic and serene, chewing grass or sleeping in the trees.
We keep a strict seven-feet distance, but in the end, the gorillas come to us, with the five-month baby of the clan showing off, banging his fists on his chest in mock outrage and posing. It's magical.m
l'm here for seven days with Volcanoes Safaris to celebrate its 20th birthday, visiting its four lodges in Rwanda and Uganda. Our first stop is Virunga, close to where zoologist Dian Fossey carried out her research between the 60s and 80s, famous for its views across Lake Bulera and the Musanze valley.
Following our first gorilla trek, we make the short drive across the border into Uganda and the Mount Gahinga Lodge. The beds are draped with mosquito nets and tires are lit in your room to keep you cosy at night. It feels rustic and rural: there's exposed beams on the ceiling, the showers are heated by solar panels and the only wi-fi you'll find is in the main lodge.
After a whistle-stop stay, an 11-seater plane whisks us to the other side of Uganda in 15 minutes. Gone is the dark greenery, instead the ground is a rich orange, dust lines the roads and the temperature rises.
We're at the edge of Bwindi Impenetrable Forest and the trek here is hard – it requires a machete, crawling through dense vegetation and sliding down hills on our bottoms. The gorillas are so adept at hiding that one of our group accidentally settles her hand onto the arm of a silverback in thick bushes, a slight clearing of the throat lets her know he's there, but there's no drama. Their interactions with us are gentle and incredibly human – after all, we share 98.4 percent of the same DNA. It's no surprise to learn that they often wander into Bwindi Lodge itself.
There is other wildlife to be found in these forests. A drive from Bwindi to our final destination of Kyambura Gorge Lodge takes us through Queen Elizabeth National Park, one of the only spots in the world where you can see tree lions. We're not so lucky on our five-hour drive, but we do spot hippos, water buffalo and elephants.
It's here that I feel most at home. With panoramic views across the savanna and into the gorge. Elephants often stumble into the grounds and I wake at 3 am to hear the guards trying to coax one away from my bedroom door. The rooms are beautiful and luxurious and have incredible showers, plus floor-to-ceiling windows that look out across the valleys.
As we make our final safari drive of the week in the early evening light, we spot a lion on the savanna. We've managed to tick off the big seven. Satisfied, we head back to the lodge just as the sun begins to set. Stopping the truck to photograph the burnt orange skies, a family of elephants walks across our path, babies led by mothers.
'They've come to say goodbye,' says our guide. In Africa, anything feels possible.
Trip notes: Seven nights in Uganda and Rwanda, including permits to see chimpanzees and mountain gorillas in both, staying at Volcanoes Safaris Lodges (volcanoessafaris.com) in Virunga, Gahinga, Bwindi and Kyambura costs from 5,590 Euro per person including international flights on Rwanda Air from London Gatwick with africaodyssey.com.