The magnificent Virunga Lodge in Rwanda is one of Africa's most loved lodges. Perched high on a ridge with the finest views in Africa, overlooking the Virunga Volcanoes and the Musanze valley to the west and Lake Bulera and Ruhondo to the east.
The iconic property has defined Rwandese Afro-chic since the lodge was built by Praveen Moman in 2004. The understated, timeless, hand-made style has been further refined to meet the needs of today's luxury traveller.
Exceptional hospitality and locally-inspired food make it the first accommodation choice for tracking the endangered mountain gorilla.
Each of our ten elegant bandas has a private terrace from which our guests can watch the sunrise over the dramatic landscape of mountains and lakes.
The two deluxe bandas – named after the lakes Ibirunga and Ibiyaga – have their own private sitting room and more refined interiors, and a large terrace overlooking the majestic Virunga volcanoes or the twin lakes.
In 2022, we are reaching out to request your assistance for vital projects that Volcanoes Safaris Partnership Trust supports near our lodges in Uganda and Rwanda. Support is especially critical at the moment when so many of our communities have seen their livelihoods affected by Covid-19.
Our new partnership with Empowers Africa as our fiscal sponsor provides a simple way for contributions from US residents to be tax-deductible.
We need your support, donate here.
Lodge overview:
10 unique luxury bandas (two deluxe and eight standard). Guide cottage available
Personal butler service for all guests
Ikirunga – Spa & Sauna. Complimentary 50-minute massage per guest.
Community projects
Dian Fossey Map Room available for private events and conservation lectures
Wi-Fi access in the main lodge building and Dian Fossey Map Room.
Premium wine, whisky, and cocktail menus
40-min drive to Park headquarters
Ready to book your stay at Virunga Lodge? Contact our sales team now!
Africa's Most Romantic Hotel

Virunga Lodge won the 2016 Africa's Most Romantic Hotel at the World Boutique Hotel Awards.
Photos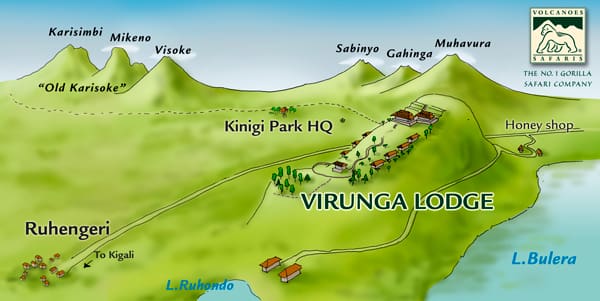 My husband and I traveled to Africa for 3 weeks in March-April of this year and began our trip in Rwanda to do gorilla trekking. We were so happy that... read more we made the choice to stay at the Virunga Lodge. It is a beautiful lodge in a beautiful setting, but what really made it special was the level of service we received. Alexis and Jojo and the rest of the staff anticipated all of our needs and wants beyond all expectation. The food was great and plentiful--I had to ask for smaller portions because I can't eat that much!! It is a bit of a drive to Volcanoe National Park for the trekking, but the drive was so interesting and beautiful; it was part of our amazing experience. We were wet and cold when we returned from the gorilla trek; Jojo made a fire in our fireplace and made sure that our shoes were dry for the next day's trek. We took advantage of the massage and sauna, and we were also treated to some traditional dancing by the local villagers. Alexis took us on a birding walk which was great. Our only regret is that we couldn't stay for a third night to really enjoy just being in the lodge. It was wonderful.

Sharell K


21st April 2022

This hotel is amazing. The staff is super nice. Jojo made sure it was a great experience.The hotel staff takes care of everything, you don't have to worry about any... read more arrangements. The attention to detail is impressive. I highly recommend this hotel. More

Borech87


23rd March 2022

We spent 2 nights at Virunga Lodge. While the views are truly spectacular, we were not overly impressed with the property or service level. Unfortunately our stay was pretty cloudy,... read more but the few times it cleared up, the views were stunning. The lodge is about 50 minutes from the park headquarters and about 15 minutes is on a bumpy dirt road. The drive went fairly quick, but just something to keep in mind when choosing your lodging.

BE VERY CAREFUL WITH FOOD ALLERGIES. My husband has a severe peanut allergy which was reviewed with the lodge pre-arrival, and reviewed again with the staff and assistant manager when we arrived. The morning of our gorilla trek he was served a smoothie that contained peanut butter and peanut butter was also served on the table. A hospital visit was required, but luckily we were still able to make our trek. The staff did their best to make things right upon our return, but with the language barrier it still didn't quite feel like the gravity of the situation sunk in.

The rooms are very large with what felt like a lot of wasted space and a very rustic style. The bathroom gets very cold at night since it is fully open. Hot water is run off of solar and after two cloudy days, we unfortunately ran out. After a cold rainy gorilla trek a warm shower would have been nice. The main bed area of the room does have a coal fire which was nice in the evening and provided plenty of heat for that part of the room.

Wifi is super slow and not available in the rooms so working in your room or communicating with other members of your party is not possible. (Our group was staying in 3 different rooms.) Per the lodge, this is by design to help you disconnect and focus on interacting with other guests in the common areas, which is a nice thought but still a bit inconvenient. The property is very hilly and at altitude so take your time getting around.

The staff didn't interact much with the guests and were often difficult to find to ask questions or get refills on drinks. Often times we wanted to pour our own drinks (since there was no one to be found), but weren't sure if we were allowed, though the bar did have a decent selection of wines, beers, and liquors. The common areas are nicely appointed with fire pits inside and out, with a library of books and magazines to choose from.

Gaiters are provided at the lodge and the staff does assist in putting them on, however a few were old and broke during our trek. Upon arriving back from the trek we were greeted with a warm drink and the staff assisted in removing our muddy gear. Our boots and muddy clothing were returned the next morning after being cleaned which was greatly appreciated.

Annie J


3rd January 2022
Activities at Virunga Lodge 2
The Dian Fossey Map Room has been built in honour of Dr. Dian Fossey, the pioneer primatologist who set up the Karisoke Center high in the Virunga volcanoes in 1967.
Visit the permanent exhibition in the Map Room charting the 'Conservationists and Explorers of the Virunga Volcanoes' from 1850 to 1985 when Fossey died or enjoy a conservation lecture by local conservation associations.
Tracking mountain gorillas through the dense African forests is a magical experience. Only eight visitors are allowed per gorilla group each day, and to minimize possible transmission of human diseases, visitors are asked to maintain a distance of 7m (about 22 feet) from the gorillas. Typically, tracking can take from 3 to 8 hours and requires some agility and fitness; however, all fitness levels can be accommodated and no one should feel deterred from missing this once in a lifetime experience.
With only a small number remaining in the world, the Golden Monkey can be found in the foothills of the volcanic mountains of Mgahinga National Park in Uganda and in Volcanoes National Park in Rwanda. Characterized by its bright golden body, cheeks and tail, with contrasting black limbs, crown and tail end, these playful primates are a pleasure to watch. Whether you choose to do this on the Rwandan or Ugandan side, the walk will take you from the bamboo stands and forested gorge on the lower levels of the volcanoes, to the elevated heath and moorland higher up.
In June 2014 Virunga Lodge launched the "One Sheep per Family" project, to provide one sheep to each of the families in three nearby villages. The sheep manure provides natural and effective fertiliser for growing crops. As well as providing manure, selling lambs provide income for the family.
For the project to work effectively, the community is divided up into 14 groups and each group is given nine females and one male. After all females produce an offspring, the breeding males are rotated to a different group for genetic diversity. A new family takes over caring for the male and donates one female offspring back to the previous ram caretaker.
With the generous support of the guests, all 140 families in Sunzu village and 175 families in Bugyeo village have now received a sheep under this successful initiative! As of November 2021, 148 families in Kigugu village have received a sheep, with a further 14 families remaining in order to supply every household in the village.
Click on the 'donate' button below to donate one sheep ($40) to one of the Kigugu community.
Located in a beautiful meadow nestled between the Karisimbi and Visoke volcanoes are the graves of Dian Fossey and some of her beloved research gorillas. For anyone interested in gorilla conservation in Rwanda, or interested in Fossey's personal story, the trek to her grave is highly recommended. This trek starts early in the morning, can take 6-8 hours and is operated by the National Park.
Both Uganda and Rwanda offer some of the world's best bird watching, with a vast diversity of bird species. Uganda has over 1,000 bird species with 150 found only in Uganda. Rwanda has over 700 bird species and is home to the second highest number of Albertine endemics in the Albertine region. Each of our lodges offers the chance to see a number of different birds, with the vast majority endemic to the Region.
In the late afternoon we invite you to enjoy a performance by the local community's traditional dance troupe, which is supported by the Volcanoes Safari Partnership Trust (VSPT). The VSPT has been working with the dance troupe at the Volcanoes Safaris' Virunga Lodge in Rwanda, since 2004.
Today, the group is made up of 24 dancers and two dance trainers. The dance troupe performs the traditional Rwandan ballet called The Intore, which is based on the courtly victory dance of the Rwandan mwami (kings).
Guests staying at Virunga Lodge or Gahinga Lodge have easy access to the Virunga chain of volcanoes, which offer challenging hikes and stunning panoramas. The three most popular volcanoes to climb are Mt. Gahinga, Mt. Sabyinyo, and Mt. Muhavura. These hikes are of varying difficulty and typically take a full day. The treks starts at 7:00am from the park headquarters, from where visitors drive to the base of the volcano.
On a free afternoon at Virunga Lodge we recommend taking advantage of the lodge's unique position by meandering down the mountain slope, through local villages, and to Lake Bulera, which sits at its foot. Passing through the local communities offers a colorful peek into village life and opportunities to visit local schools and community centers.
Quotes
"A magnificent lodge with beautifully designed bandas and a private terrace. The staff's warm hospitality and professionalism made our stay at Virunga lodge a wonderful one."
"They say that feng shui gives you peace and harmony but nothing like the tranquillity and serenity that embraces you on arrival at Virunga Lodge. The love from Praveen and his family and his staff exudes in making a stay here totally unique."
Duchess of York
"Virunga Lodge – my favourite place in Rwanda"
Clare Richardson, President Emerita, Dian Fossey Gorilla Fund International
The staff at Virunga Lodge offered unparalleled service and professionalism. Our deluxe banda was beautifully appointed and very comfortable – great bed! Virunga is a magnificent place to stay…
Diane and Claudio, Canada
"In all my years this is the most beautiful place I've ever stayed! Congratulations on everything you do for the community!"
"Words do not suffice how beautiful it is here!"
Byishimo, Portland
"Should western societies globally follow by example Volcanoes Safaris conservation and community ethos, our world would be a better place. We have respect and appreciation for what you are doing. Thank you!"
Adrian, Australia
"Coming to the Volcanoes Park to see the gorillas cannot be a complete experience without staying at Virunga Lodge, a little paradise with wonderful views and the most helpful, pleasant and efficient staff to make our stay a perfect experience!"
Mark and Anne, UK
"We travelled to Rwanda with the sole intention of going in search for the gorillas. I can only say that it's been the best experience of my life."
Manuel, Mexico
"It was so nice to sit out on the patio and watch the clouds and listen to the sounds rise up. I'd go back in a heartbeat."
Nanci, USA