Overlooking the primeval Bwindi Impenetrable Forest, Volcanoes Bwindi Lodge is the finest luxury lodge at Bwindi. With dramatic intense views of the forest canopy across a serene stream, it is one of Africa's unique properties. The gorillas frequently come to relax in the verdant bush around the lodge! The lodge is perfectly located for a Uganda jungle gorilla tracking experience.
The luxury forest lodge in Bwindi, fully renovated in 2018, now features a redesigned guest lounge and dining area that bring the feel of the forest into the stylish interiors. The main living area has a central fireplace which acts as a focal point for guests to relax and discuss their gorilla tracking experience. A newly designed outdoor terrace gives dramatic views of the impenetrable forest and is a great place to spot the monkeys and birds hidden in the foliage.
The eight standard bandas, each having their own view of the forest, have been been totally restyled with warm luxurious interiors and inviting four poster beds and locally-inspired furniture​. A new Deluxe Banda has opened in June 2019 and one more will be opening later in the year.
The Humula Forest Spa was opened in April 2018 and a sauna and new massage room are planned for late 2019.
The award-winning Bwindi Bar, in the high street of the village nearby is the most stylish and colourful bar in the area! Guests also enjoy informal tapas style meals inspired by Ugandan dishes. It's the Harry's Bar of Bwindi! Guests can even make their 'rolex' wrap and the delicious Gorillini Cocktail, a must-have after a gorilla tracking in Bwindi! The bar was set up by Volcanoes Safaris Partnership Trust to train disadvantaged local youngsters in hospitality.
Lodge Overview
Eight plaster and timber glass-fronted guest bandas with thatch roofs (six doubles and two twins) reflect the local building style.
One new Deluxe Banda opened in June 2019 and one more opening later in the year
En-suite shower rooms with flushing toilet, double vanity, shower with hot and cold running water.
Personal butler service for all guests.
The Humula Forest Spa (with sauna opening in 2019).
Rooms have walk-in mosquito nets, charging stations, hairdryers, and 240v lighting.
Bandas are individually named after Bwindi gorillas.
Wi-fi is available in the main lodge building.
Ready to book your jungle gorilla safari? Contact our sales team now!
Photos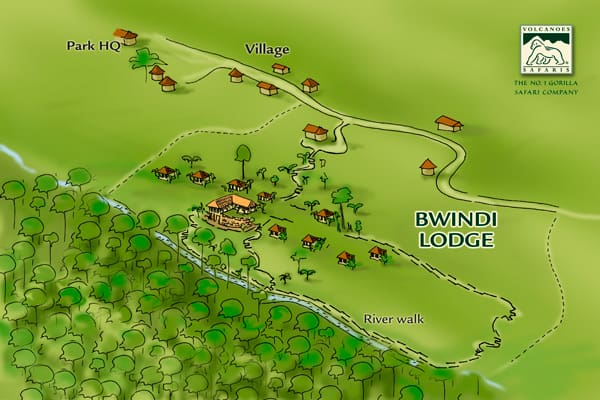 Activities at Bwindi Lodge
Tracking mountain gorillas through the dense African forests is a magical experience. Only eight visitors are allowed per gorilla group each day, and to minimize possible transmission of human diseases, visitors are asked to maintain a distance of 7m (about 22 feet) from the gorillas. Typically, tracking can take from 3 to 8 hours and requires some agility and fitness; however, all fitness levels can be accommodated and no one should feel deterred from missing this once in a lifetime experience.
In August 2015, the Volcanoes Safaris Partnership Trust (VSPT) opened Bwindi Bar on the edge of the Bwindi Impenetrable Forest in Buhoma. The bar provides a practical training institution for local disadvantaged youths, and a welcoming environment for guests to enjoy an ice-cold local beer or handcrafted latte.
In 2013 the VSPT began simple tea processing in partnership with the local communities, at the Volcanoes Safaris Bwindi Lodge, which is located at the edge of the primordial Bwindi Impenetrable Forest, World Heritage Site and home to the famous Mountain Gorilla, in South West Uganda.
Tea has proven to be a very useful buffer crop when planted between forest areas with protected wildlife, and local human communities. Animals do not eat tea so feel no need to come out of the forest to "crop raid" which is the source of much human-wildlife conflict in areas around National Parks.
A tea tour is available to interested Volcanoes Safaris guests, demonstrating how tea is grown, picked and traditionally processed in Uganda. The tour also shows how 'black', 'green' and 'white' teas are produced and differentiated. Guests are invited to sample the fine teas at the end of the tour whilst looking out over the impressive forest.
Led by a community guide, guests to Bwindi Lodge can take a walk through Buhoma town to visit various local schools and orphanages.
Both Uganda and Rwanda offer some of the world's best bird watching, with a vast diversity of bird species. Uganda has over 1,000 bird species with 150 found only in Uganda. Rwanda has over 700 bird species and is home to the second highest number of Albertine endemics in the Albertine region. Each of our lodges offers the chance to see a number of different birds, with the vast majority endemic to the Region.
This internationally supported hospital is a beacon of hope to the local communities. Walkable from Bwindi Lodge, guests are welcome to visit the hospital and learn about the daily challenges and successes of the institution and remarkable staff.
Quotes
"Our stay was quite possibly the most rewarding experience we have ever enjoyed throughout our many world travels."
"The best service we have received in Africa! Incredible gorilla experience and wonderful staff. Thank you!"
Trudie, Canada
"Should western societies globally follow by example Volcanoes Safaris conservation and community ethos, our world would be a better place. We have respect and appreciation for what you are doing. Thank you!"
Adrian, Australia
"Truly a wonderful experience! Thank you to Mariana and all the staff for making our stay in Bwindi so memorable!!"
Renata and Robin
"This has to be one of Africa's best lodges with a relaxing and peaceful location. The rooms are very comfortable and those with a veranda can sit and enjoy the wonderful sounds of the forest. Gorillas come to the lodge perimeter, and you will see them if you are lucky!"
John, United Kingdom
"Undivided attention from the staff, and a gin & tonic is a must after gorilla tracking. Try hanging around the main house with a camera handy in case some gorillas come passing by. I was lucky to see the group of gorillas twice during my 4-night stay."
Judy, China
"This stunning lodge has all the comforting first world elements you may not expect from a lodge in the middle of a rain forest but still the ethnic African feel you would hope for when going on a remote vacation. Hot showers, lovely fire pits, comfortable beds and epic food!"
Caz, UAE
Safaris at Bwindi Lodge
This 4-day Bwindi adventure invites guests into the Bwindi Impenetrable Forest, a World Heritage Site, in search of the enchanting mountain gorillas. Spend four days on the edge of the forest, spotting monkeys, birds and other wildlife. We also welcome you to interact with and learn about the local communities of Bwindi & Buhoma.