Mr Porter, Nicole Trilivas, January 2020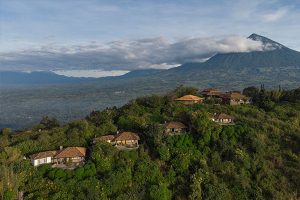 Sunny Escapes To Beat The Winter Blues
As January's wintry darkness settles in and visions of mince pies and glittery tinsel fade away, it's vital to have something to look forward to lest a mean case of the post-holiday blues takes hold. Even if you can't jet off right away, you can dodge the winter doldrums by booking a future trip to a warm-weather hotspot designed to top up your vitamin D and feel-good vibes. Whether you're in need of a quick recharge or a far-flung full reset for the next decade, a jaunt in the next few months will deliver off-season sanctuary without the peak-period crowds and provide some much needed motivation to make it through the short days and long nights ahead. Here's how to outrun the winter blues.
(…)
RWANDA
Welcome to the jungle. Literally. No longer an up-and-comer, Rwanda has officially arrived as one of Africa's most exclusive wildlife destinations and is drawing nature lovers by the drove. The phrase "trip of a lifetime" gets bandied about with far too much regularity, but bushwhacking through the steamy rainforest of Volcanoes National Park in search of the world's last remaining mountain gorillas really is the kind of stuff that bucket lists are made of. In the past few years, swish new properties have been springing up, but one of the most exciting picks is also the oldest. Eco-luxe outfitter Volcanoes Safaris was the first international company to open a lodge in Rwanda following the genocide, which helped kick-start gorilla tourism. This year concludes an extensive four-year reimagining across all its properties, including its original jungle sanctuary, Virunga Lodge, which happens to have the best views over the Virunga Volcano Mountains.
Read full article at this link.