Rwanda, though small and landlocked, is one of the most gorgeous countries in the world. Offering winding roads, peaceful lakes, volcanic landscapes, and endless green hills, Rwanda is incredibly special. Check our guide to the country's most breathtaking natural landscapes, and get ready to plan your trip to the land of a thousand hills.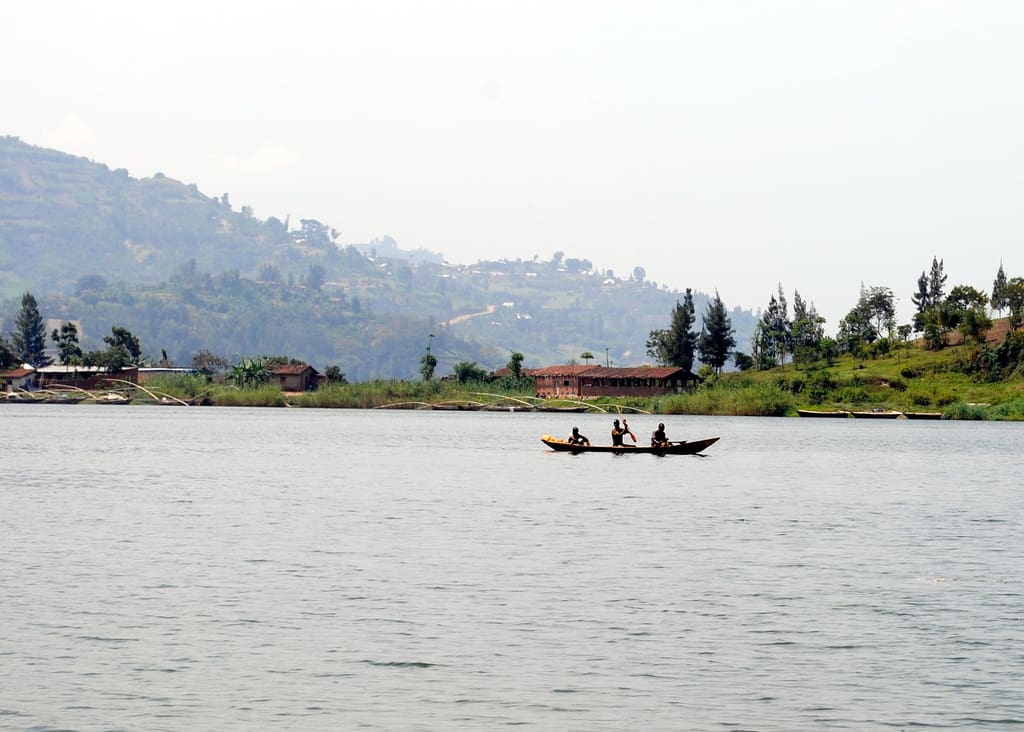 Lake Kivu
Spanning almost the whole length of the country, Lake Kivu is Rwanda's largest lake and is shared with the neighboring Democratic Republic of Congo. Spot fishermen rowing their way out of small towns in the early evening, singing traditional Rwandan melodies and songs, and watch native cormorant birds winging their way across the coast, flying across sunlit skies and misty hilltops. Dozens of towns in Rwanda dot Lake Kivu; Gisenyi and Kibuye are two of the biggest and the most popular with local and international tourists.
Akagera National Park
Located in Eastern Rwanda, Akagera National Park is the country's only big five safari park. Its diverse landscape features forests, swamps, hills, mountains, and an expansive savannah. Very few other spots in Rwanda boast a better view than the campsites in the park's northern section, though the southern Lake Ihema also enjoys a gorgeous Akagera vista. Elephants, rhinos, lions, giraffes, zebras, and many other gorgeous animals live here.
Lake Burera
Lake Burera is one of the most gorgeous places in the country, let alone the region. Picture-perfect hills blend into crystal-clear water, with the Muhabura volcano providing a spectacular lakeside backdrop. Spend a night camping on Ile de Cyuza, or go a little upmarket for a gorgeous view of both twin lakes – Lake Burera and Lake Ruhondo – at the very special Virunga Lodge.
Mount Sabinyo
One of Rwanda's many volcanoes in the Virunga Mountain Range, Mount Sabinyo translates from Kinyarwanda to mean "old man's teeth." The rocky edges make for a difficult hike, but the scenery along the way and at the summit (which is shared by Rwanda, Uganda, and the Democratic Republic of Congo) is beyond worth it.
Mount Kigali
Travelers don't have to go too far out of the city to be rewarded with some breathtaking natural views. Mount Kigali, located in the Nyamirambo neighborhood of Kigali and overlooking portions of the city, is an easy hike with great rewards. Rolling hills, remote houses, and flowing rivers can be viewed from different corners of this mountain, which is the perfect escape for city dwellers.
Volcanoes National Park
Home to Rwanda's famous mountain gorillas, Volcanoes National Park is the country's pride and joy. There are expansive and panoramic views of volcanoes at every turn, and the bamboo forests inside the park itself are a delight. Of course, the chance to see mountain gorillas in their natural habitat and on the side of extinct volcanoes is a genuine once-in-a-lifetime opportunity.
Nyungwe National Park
Misty tea fields, endless trees, and the soft chirping of indigenous birds make Nyungweone of the most breathtaking spots in the country. Sitting close to the Burundian border, Rwanda's only rainforest features dozens of hiking trails, including the famous canopy walk and chimpanzee trek.
Lake Muhazi
Located just a short drive away from Kigali, this lakeside retreat is a quick getaway from Kigali city life. Restaurants and bars dot the shore, offering local brochettes, grilled fish, and cold beers to visitors.
Kinigi
Situated in Rwanda's Northern Province, in the Musanze district, Kinigi is home to many towns and hotels related to the gorilla trekking industry. Here, stunning volcanic views can be seen from almost every porch, surrounded by working farms and verdant green hills. Rwanda's newest and most impressive luxury hotel, Bisate Lodge, is also located in Kinigi.