Greenwich Times, Alexandra Villarreal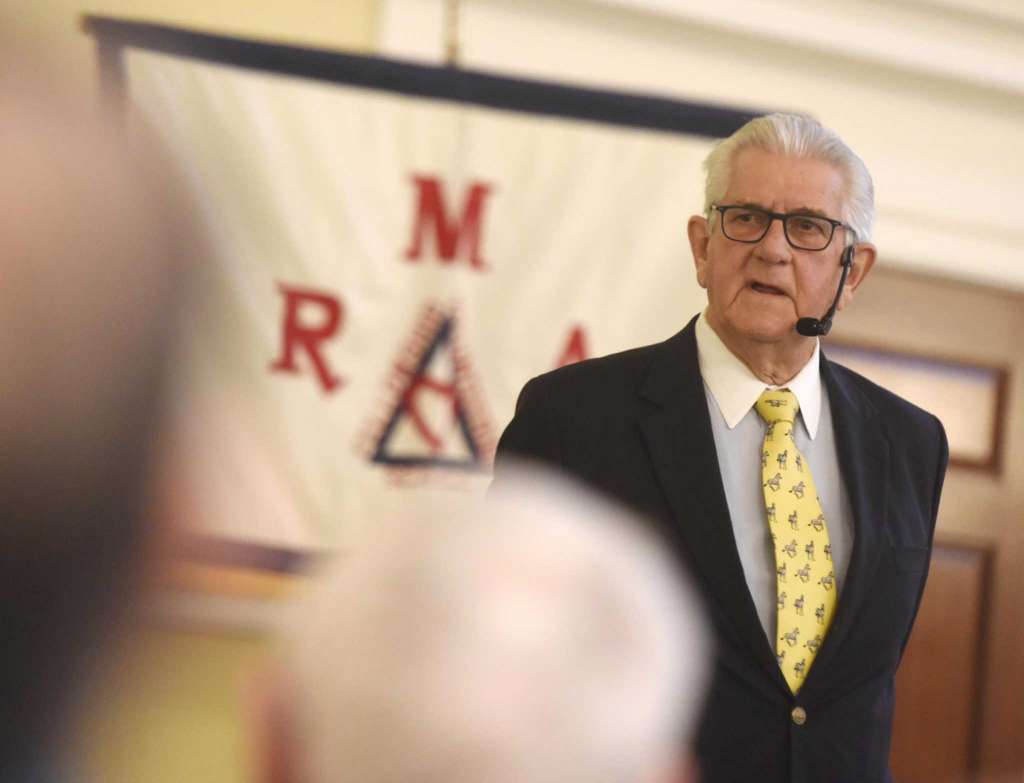 The rules of engagement were clear:
Stand still and be submissive.
Don't make sudden moves.
Don't get closer than 15 feet.
"Well, I don't think the gorillas got that memo," joked Les de Villiers.
Instead, the primates studied him and his camera up close — to them, he was wildlife in their habitat.
Still, de Villiers never batted an eyelash. He didn't feel threatened, even as the silverback beat his breasts.
"Hollywood has given us this myth of this fierce gorilla," said de Villiers, a myth he found baseless.
At a Retired Men's Association lecture at First Presbyterian Church on Wednesday morning, de Villiers — a New Canaan resident who grew up in South Africa — detailed his trip to the Virunga Mountains that straddle Uganda, Rwanda and the Democratic Republic of the Congo. There, four years ago, he had his first encounter with gorillas.
He recorded youngsters clumsily mimicking the silverback. And he watched them climb atop a wary mama, tackling her into an affectionate hug.
His favorite moment caught on tape was one between a baby and mom. The latter slowly introduced small pieces of greenery into her ward's mouth before pulling it close for a cuddle.
A former South African diplomat and author of books on economics, politics and travel, de Villiers told his audience he wanted to find himself face-to-face with a gorilla for decades. As an avid safari goer, he had already met the majority of Africa's animal canon, including Tanzania's rabble-rousing chimpanzees.
But after the 1994 Rwandan genocide, which killed up to 20 percent of the country's population, and a subsequent attack by Rwandan rebels on a Western tourist group in Uganda, de Villiers delayed any semblance of plans to visit the Virunga Mountains out of concerns over the region's stability.
Then, one of his friends reignited his interest by saying that meeting gorillas was "the ultimate life-changing experience," he said.
De Villiers flew to Kigali and drove to the mountains, in lieu of a helicopter ride, to get a sense of the countryside. During his travels, he watched as trucks swerved around cattle, and as small children herded their livestock to safety. Tales from locals indicated that sometimes, when a child tied one of his or her sheep to a post so it wouldn't escape during the night, gorillas would come to set it free, afraid it might otherwise fall prey to poachers.
Unlike sheep, the process for a human to actually interface with mountain gorillas is rigid and expensive, warned de Villiers. Ten groups of up to eight people ascend the mountain during a trip that can take minutes to hours, depending on the group's ability level. Then, they spend an hour with a gorilla family.
At least in Rwanda, that hour costs $1,500, he said.
"It's about what you'd pay for a good lawyer, and they're much more interesting than lawyers," said de Villiers.
Though mostly positive, part of the lecture focused on a cautionary tale. Upon arrival at the Virunga Lodge, de Villiers insisted on being assigned to the most interesting group for his expedition. And so, when the time came, he was saddled with two 25-year-old men and a two-hour hike before ever reaching gorillas.
De Villiers is in his 80s.
RMA members, he advised, should stick with an age-appropriate group and give themselves at least a day to acclimatize to the mountains' height before going on their tour.
As to whether meeting gorillas is truly "life-changing," de Villiers hesitated to use the phrase. He said his wife tends to remind him that life has not changed and he's still the same miserable guy as four years before.