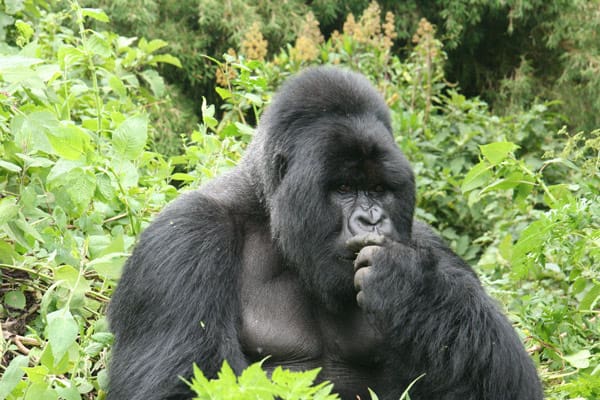 AS ADRENALINE_SPIKING ANIMAL ENCOUNTERS GO, it doesn't get more memorable than hacking through bamboo rainforest to come face to face with a gorilla. For couples who've ticked off classic safaris in Tanzania or Kenya, gorilla-tracking in Rwanda and Uganda is what honeymoon dreams are made of. Seeking out die apes is thrilling and romantic, and a new generation of eco lodges provide a luxe backdrop. The mountain gorilla population is estimated at fewer than 900, a scarily small number but an improvement on the 1967 census by primatologist Dian Fossey (immortalised in Gorillas In The Mist), which put the figure at 240. They can only be seen in the Virunga Mountains and Uganda's Bwindi Impenetrable National Park and, in both spots, the permit fee (approximately £466 to £1,170 per day) goes straight into conservation work. It's a feel-good experience – 50 years after Fossey began her efforts to save the apes from extinction, conservation and tourism have united to produce a rare success story. For a 'moon that combines culture and awe-inspiring wildlife, this has to be The One
Virunga Lodge, Rwanda
BEST FOR FEELING SPOILED.
Regularly named one of the most romantic places in the world, this luxurious eco lodge sits high on a mist-shrouded ridge, with panoramic views of the dramatic Virunga Mountains to the west, and Lake Bulera to the east. An increasingly beautiful drive from the Rwandan capital of Kigali, Virunga Lodge is just 30km from the Volcanoes National Park, and built on the site of Dian Fossey s original camp. Upon arrival, the Map Room named in her honour is an atmospheric place to have a well-earned G&T and swot up on gorilla conservation history. Each of the ten individual stone bandas (lodges) is stylishly decorated in Rwandese style, with vibrant fabrics, locally carved furniture and exposed stonework wet rooms with solar showers; let's just say the gorillas aren't the only thing you'll be Instagramming. But they are going to steal the show. We've all seen the iconic images of Sir David Attenborough getting up close and personal with a family of mountain gorillas in Rwanda's Virunga National Park in 1979, in what's considered the most famous wildlife footage of all time. And because visitor numbers are strictly kept at eight humans per gorilla family per day to minimise disruption, tracking them is ultimate and uncrowded. The habituation process (in which gorillas are gradually acclimatised to human presence by wardens, years before tourists are introduced) was pioneered by Fossey, and it's gratifying to feel that the apes are untroubled by squeaks of glee and the sound of camera shutters. Visiting Virunga is guaranteed to give you your Attenborough moment.
• From £380pp per night, all inclusive; volcanoessafaris.com
Mount Gahinga Lodge, Uganda
BEST FOR GETTING TO GRIPS WITH INDIGENOUS BATWA CULTURE.
This intimate, six-banda lodge in the foothills of the Virunga Mountains is perhaps the most tranquil of the lodges, just over the Rwandan border in the southern corner of Uganda.A short drive in a safari Land Rover from Virunga Lodge, it's the perfect pitstop for travellers en route to Bwindi Forest. Each banda exudes rustic charm, reflecting local artisanship.The Batwa were the first known inhabitants of the Central African rainforest, and their survival skills are among the best in the world; the nearby Batwa Vocational Centre seeks to preserve this heritage. As well as gorilla-tracking in Virunga National Park, Mount Gahinga makes the perfect base for golden monkey-tracking in the foothills of Uganda's Mgahinga Gorilla National Park. This endangered species of playful primates is characterised by a bright golden body, cheeks and tail. It's impossible to visit Uganda and not emerge with a newfound primate obsession, and golden monkeys are particularly enchanting to spot in the wild.
• From £120pp per night, all inclusive; volcanoessafaris.com
Bwindi Lodge, Uganda
BEST FOR A TASTE OF LOCAL FLAVOUR.
Overlooking the primeval and brilliantly named Bwindi Impenetrable Forest, this luxurious lodge faces the forest canopy across a lush valley. The eight large thatch-roofed bandas put you right in the thick of it; through the glass-fronted lodges, gorillas can sometimes be sighted in the bush surrounding the lodge itself. Gorilla-tracking in Bwindi is a different experience than in Virunga, primarily because of the thickness of the vegetation, which needs to be hacked through by expert trackers who know each member of each gorilla family like their own friends. Essentially, we're rummaging around in the undergrowth for gorillas, and, happily, the animals are gracious and generous hosts, unperturbed by human company and contentedly getting on with the business of playing with each other, munching bamboo and ambling around. As you hold your breath (and your partner's hand, tightly), it's impossible not to be profoundly moved – and exhilarated – by this experience. Another point that sets Bwindi apart is that the lodge sits in the heart of Bwindi village, which is lined with rustic yoga studios, street-food vendors and craft stores. A visit to the colourful Bwindi Bar for an iced coffee or a Nile beer is a must. This social enterprise was set up by Volcanoes Safaris to train disadvantaged youths, and it's the best place in town to clink glasses with locals and learn more about this vibrant community.
• From £110pp per night, all inclusive; volcanoessafaris.com
Kyambura Gorge Lodge, Uganda
BEST FOR RAISING YOUR ANIMAL COUNT.
All four Volcanoes Safaris lodges are unique and offer a variation on the wildlife experience in Uganda or Rwanda, but Kyambura Gorge Lodge feels even more distinct. Located on the edge of the Kyambura Gorge in the Queen Elizabeth National Park, this stylish lodge offers mesmerising views of the savannah and the Gorge in the distance, and the lower altitude makes this feel like a whole different Uganda. And this is the lodge where you can seriously up your animal sightings; during the ride from Bwindi, make a detour for a game drive in Queen Elizabeth National Park to sight elephants, antelope and rare tree-climbing lions. The latter are something special to behold, and the only other place they can be seen is Tanzania. With more than 600 bird species, Queen Elizabeth is a dream destination for twitchers, too. An afternoon riverboat cruise along the Kazinga Channel allows you to see elephants bathing at the waters edge and sneak up on grumpy hippos; Kazinga has one of the greatest concentrations of hippos in Africa. Buffaloes, flamingos and pelicans form part of the backdrop, too, and the entire view is completely different to the dense rainforest the gorillas call home. But the highlight might just be chimp- tracking in the sunken forest of the Kyambura Gorge. Expert guides lead you to the chimps, and watching them shriek, cavort and play-fight in the branches feels like watching a real-life soap opera. Back at the lodge, there's a tranquil pool overlooking the savannah, sundowners brought to you poolside, and soothing massages-for-two to enjoy as you let the memories sink in.
 • From £170 pp, per night, all inclusive. Seven nights in Uganda and Rwanda, including permits to see chimpanzees and mountain gorillas, staying at all four Volcanoes Safaris Lodges (volcanoessafaris.com) costs from £5,590 pp, including flights on Rwanda Air from London Gatwick, with africaodyssey.com. Rwandair (rwandair.com) flies direct from London Gatwick to Kigali from £372 return.