Meet our heroes of travel for 2018 – the brave, big-hearted and indomitably determined men and women who work all year around to make the world a better place, with inspiring results.
Their efforts know no bounds, from protecting wildlife to conserving historic city quarters, from championing native foodstuffs to preserving some of the most pristine areas on Earth, from making fine-dining healthy to showing us just how our most daring travel dreams can be realised.
It's an honour roll that features champions from across the globe. There are local heroes, such as our food pioneers David Thompson and Maggie Beer, Everest and Antarctica adventurer Greg Mortimer, mountain man Jon Muir and cruise creator Ann Sherry. And so many more doing amazing work overseas; think world-renowned African wildlife conservation specialists Dereck and Beverly Joubert, who continue their life's work even though Beverly nearly lost her life last year after the pair were attacked by a buffalo.
Then there's yachting entrepreneur Pierre Pringiers, who is passionate about pushing tourism in Sri Lanka to help enrich the locals. And former Australian investment banker Chris Ong, who went back to his hometown of Georgetown in Malaysia's Penang to devote himself to saving and restoring its beautiful heritage buildings.
Sadly, this year has seen the passing of some great names, too. Few will ever forget chef Anthony Bourdain, who pursued culinary adventures around the world and taught us so much about food, and life. Similarly, the achievements of Australian architect Kerry Hill, responsible for some of Asia's most exciting and innovative buildings, will live far beyond his death.
Happily, however, there seems to be an ever-growing number of bold, energetic, creative and visionary travel heroes coming up through the ranks, eager to leave the world in a better state than when they found it – and encouraging the rest of us to do our bit, too.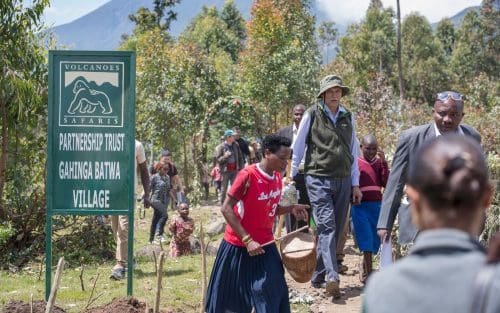 PRAVEEN MOMAN, VOLCANOES SAFARIS, UGANDA AND RWANDA
Expelled from his Ugandan homeland by dictator Idi Amin, visionary conservationist Praveen Moman later returned and in 1997 founded a company to revive gorilla tourism in Uganda and post-conflict Rwanda. He built four luxury lodges in the gorilla parks, training locals to run them, and pioneered sustainable programs to promote and safeguard the wellbeing of the great apes. "We must keep giving back to the community, so they have a stake in the survival of the gorillas too," he says. See volcanoessafaris.com