This short safari to Kyambura takes you on scenic game drives in Queen Elizabeth National Park, on a spectacular boat cruise on the Kazinga Channel and to trek to the 'Lost Chimpanzees of Kyambura Gorge' into the sunken forest of the Kyambura Gorge. Visit the community and conservation projects run by the Volcanoes Safaris Partnership Trust and plant a tree in the wildlife buffer zone.
Highlights Include:
Chimpanzee Tracking in Kyambura Gorge
Game Drives in Queen Elizabeth National Park
Tree-Climbing Lions in Ishasha
Boat Cruises on the Kazinga Channel
Community Projects in Kyambura run by the VSPT
Safari Itinerary
Day 1
Arrive at Entebbe airport where an Aerolink staff member will assist you with the check-in and transfer to your domestic flight to Kasese. Upon arrival at Kasese you will be welcomed by your expert guide who will provide knowledge and assistance throughout your journey.
Transfer to Queen Elizabeth National Park and the contemporary Kyambura Gorge Lodge. Enjoy pre-dinner drinks on the veranda that overlooks the savannah plains with the magnificent Rwenzori Mountains in the distance.
Approximate Travel Times: Flying 2 hours; Driving 2 hours
O/N Kyambura Gorge Lodge (L,D)
Day 2
Opt for an early morning or an evening game drive for the best opportunity to see game. What you see depends on the season, but the Kasenyi plains are excellent for sighting lion and large herds of Uganda kob.
In the afternoon you can opt to visit various Volcanoes Safaris Partnership Trust-supported community projects such as a women's coffee cooperative, wetland reclamation project, an omumushaka dance group performance and much more.
O/N Kyambura Gorge Lodge (B,L,D)
Day 3
The Kyambura Gorge is an extraordinary natural environment and forms a stark contrast to the surrounding grasslands. Here you can track one of our closest animal relatives: the chimpanzee. The chimp population is quite mobile and viewing can be unpredictable but the walk itself is enchanting.
In the afternoon take a cruise on the Kazinga Channel, which flows between Lakes Edward and George. The Kazinga Channel is home to one of the greatest concentration of hippo in Africa and herds of elephant, buffalo and other animals come to drink at the waters edge.
O/N Kyambura Gorge Lodge (B,L,D)
Day 4
Transfer from Kyambura lodge to the Kasese airstrip. Leave with the morning or afternoon return flight to Entebbe and connect in time for your international flight.
Approximate Travel Times: Flying 1 hour; Driving 2 hours
Please book international flights departing after 8pm
(B)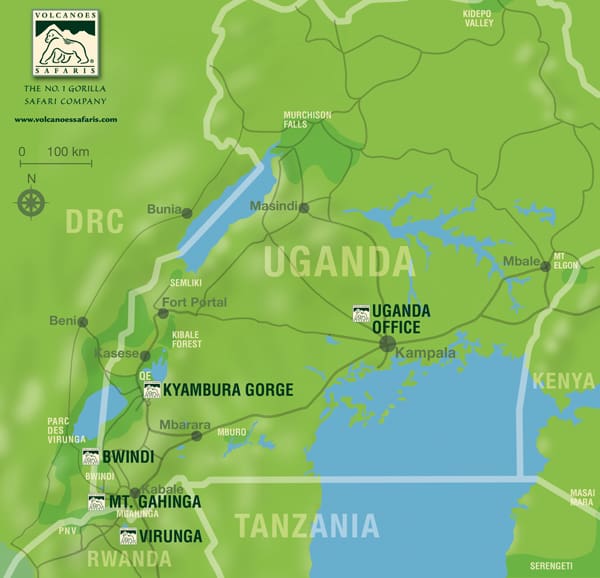 Quotes
"The Kyambura Gorge Lodge is a jewel to be discovered! We were well taken care of and highly recommend this lodge if you're visiting Queen Elizabeth National Park."
Carla, Mexico
Accommodation for this Safari