Volcanoes Safaris are honoured to have been recognised for a number of awards during 2021:
Best Hotels in Africa, Top Resorts and Safari Camps in Africa, and Best Travel Specialists in the World in the Conde Nast Travellers Readers Choice Awards 2021
Best African Safari Tours in Travel & Leisure's World's Best Awards 2021
Newsweek The Future of Travel Awards 2021
Thank you to all our guests, friends and supporters who voted for us!
Mount Gahinga Lodge opened in 1997 and was the first lodge of the Volcanoes Safaris collection. It is the perfect base to go gorilla tracking on the Ugandan side of the Virungas, track the rare golden monkey, climb a volcano, walk through local villages and most of all to share the culture of the Batwa, the oldest inhabitants of the Central African rain forest.
The charming property, inspired by traditional design and building techniques, has been re-imagined in 2019: the lounge, dining room, and gardens have been remodeled, and two new deluxe bandas have been launched.
The luxury bandas reflect the magic of the aesthetic traditions of the Bufimbira people, with their distinct colours. Each Banda has an ensuite luxury shower room, fireplace and private porch.
Lodge Overview
8 bandas (2 deluxe)
Personal butler service for all guests
Direct private footpath to access gorilla tracking in the National Park
Community projects and Gahinga Batwa Village
Wi-Fi available in the main lodge building. Charging facilities available in each banda
Premium wine, whisky, and cocktail menus
Ready to book your stay at Mount Gahinga Lodge? Contact our sales team now!
Photos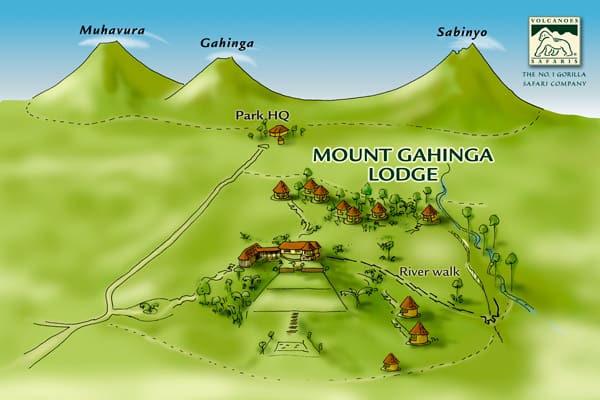 Activities at Mount Gahinga Lodge
The Building of a Permanent Settlement for the Gahinga Batwa, Uganda
The Batwa are thought to be one of the oldest surviving indigenous people in the Central African Region. Known for their unique culture in the forests, the Batwa of the Virunga Mountains survived by hunting small game, gathering plants and fruits, living in caves and constructing huts of leaves and branches.
With international attention on conservation of the endangered mountain gorillas, the Mgahinga part of the Virunga volcanoes in Uganda was turned into a national park in 1991 to provide protection to the wildlife from poaching and habitat encroachment.  The creation of the park required the Batwa to be removed from their homes in the mountains and be displaced in a modern world unfamiliar to them. The Batwa ended up squatting in nearby farm land. They earned a living through occasional labor or begging. With limited education, adapting to the modern world has been a difficult journey. They do not have resources or land and suffer from acute poverty, malnutrition and poor health.
A group of about 18 Batwa families from those displaced live in makeshift shelters on a tiny rocky site at Musasa, about 4km from the entrance of Mgahinga National park and Volcanoes Mount Gahinga Lodge, surviving as best as they can.
Volcanoes Safaris has now built a permanent village for the Batwa community and their families. About 10 acres of land has been purchased to allow them to build homes, a community centre and have land for agricultural and recreational use. The homes were completed in early 2018 and the official launch of the village took place at the end of May 2018.
The Gahinga Batwa community is comprised of over 100 adults and children. They have had no permanent home since they left Mgahinga National Park over 25 years ago.
Praveen Moman, Founder of Volcanoes Safaris and Volcanoes Safaris Partnership Trust says of the project, "As a leading luxury lodge company offering unique safari and cultural experiences to our guests, we are also very proud of our company ethos to support communities around our lodges. Uganda is one of Africa's most beautiful and diverse countries and we want to help preserve its rich culture. We are excited to see this project come to fruition after many years of working with the Batwa and understanding their culture and desperate needs".
VSPT'S HISTORY WITH THE BATWA: ONGOING PROJECTS & BUILDING THE VILLAGE
Since 2013, VSPT has developed a series of projects to support the Batwa through tourism related enterprises and to help preserve their culture and heritage and give them a livelihood. These have included setting up a Vocational Centre, a Batwa Heritage Trail and sharing their culture with guests.
In 2015, Praveen Moman, the founder of Volcanoes Safaris, agreed with the Batwa leaders including Jane Nyirangano, the Chairperson, that land would be purchased for them. Land around Gahinga is scarce as it's one of the most densely populated areas in Africa. 10 acres has been purchased as they continue to explore further acquisitions.
Consultations were been held with the Batwa on their views on land use. Felix Holland from Studio FH Architects kindly provided advice on the site and design on a pro bono basis. Dan Krueger from Puddlejump, based in Canada, who specializes in indigenous tourism, has also been consulted. Herbert, Felix and Cyprien Serugero, Head of Construction for Volcanoes Safaris oversaw the construction of the homes.
THE GOAL
Volcanoes Safaris' long term goal is to provide land that can be used in perpetuity by the Batwa, where they can have their own homes and community facilities as well as an agricultural area where they can grow their own crops to help them start generating their own income. The houses are being built by the Batwa, following their own traditions and culture, using a volcanic stone base with mud and water to form the core of the design. The site plan will act as the backbone with cultivation, recreational and communal areas demarcated. Sanitation is to be provided.
The Gahinga Batwa Village has been funded by VSPT supported by Volcanoes Safaris, the Adventure Travel Conservation Fund (ATCF), as well as donations received from guests.  The settlement will enable the Batwa to break the cycle of manual labour and land rental payments and to use the land for growing crops. This will support the community's development and allow their children to access education and health facilities.
The project has been widely welcomed by the Batwa and also by the wider local community. VSPT has built a relationship with the Gahinga Batwa community for several years which has allowed us to develop a solid understanding of their needs.
Click on the 'donate' button below to contribute to the Gahinga Batwa Village.
Tracking mountain gorillas through the dense African forests is a magical experience. Only eight visitors are allowed per gorilla group each day, and to minimize possible transmission of human diseases, visitors are asked to maintain a distance of 7m (about 22 feet) from the gorillas. Typically, tracking can take from 3 to 8 hours and requires some agility and fitness; however, all fitness levels can be accommodated and no one should feel deterred from missing this once in a lifetime experience.
With only a small number remaining in the world, the Golden Monkey can be found in the foothills of the volcanic mountains of Mgahinga National Park in Uganda and in Volcanoes National Park in Rwanda. Characterized by its bright golden body, cheeks and tail, with contrasting black limbs, crown and tail end, these playful primates are a pleasure to watch. Whether you choose to do this on the Rwandan or Ugandan side, the walk will take you from the bamboo stands and forested gorge on the lower levels of the volcanoes, to the elevated heath and moorland higher up.
Supported by the Volcanoes Safaris Partnership Trust, this hands-on experience will open your eyes to another world – that of one of Uganda's longest surviving tribes. Visit the local Batwa community in their traditional dwellings and learn about how they have lived for generations in the surrounding forest.
Supported by the Volcanoes Safaris Partnership Trust, the local Batwa community visits Mount Gahinga Lodge and performs their traditional song and dance for lodge guests.
Both Uganda and Rwanda offer some of the world's best bird watching, with a vast diversity of bird species. Uganda has over 1,000 bird species with 150 found only in Uganda. Rwanda has over 700 bird species and is home to the second highest number of Albertine endemics in the Albertine region. Each of our lodges offers the chance to see a number of different birds, with the vast majority endemic to the Region.
Guests staying at Virunga Lodge or Gahinga Lodge have easy access to the Virunga chain of volcanoes, which offer challenging hikes and stunning panoramas. The three most popular volcanoes to climb are Mt. Gahinga, Mt. Sabyinyo, and Mt. Muhavura. These hikes are of varying difficulty and typically take a full day. The treks starts at 7:00am from the park headquarters, from where visitors drive to the base of the volcano.
Located less than a kilometer from Mount Gahinga Lodge, the Kisozi Caldera is an easy to moderate hike to the top of a small hill where the caldera sweeps from corner to corner. A caldera is formed by volcanic eruptions, and many dot the stunning landscape of this volcanic region.
Set up by the Volcanoes Safaris Partnership Trust (VSPT), this vocational school offers the local Batwa community a place to come and learn various crafting skills such as sewing, weaving, and knitting. All goods produced by the Batwa are for sale and proceeds go directly back to the artisans.
Quotes
"Our stay was quite possibly the most rewarding experience we have ever enjoyed throughout our many world travels."
"So amazingly peaceful. Wonderful service and food. Can't wait to come back."
Mellanie, USA
"Absolutely amazing! The food, the hospitality, accommodation, and breathtaking views truly make this place a hidden gem! Can't wait to return…"
Samantha, USA
"Should western societies globally follow by example Volcanoes Safaris conservation and community ethos, our world would be a better place. We have respect and appreciation for what you are doing. Thank you!"
Adrian, Australia
"This is the perfect place to relax for a couple of days and visit the wonders of Mgahinga National Park. The cottages are very spacious and have a clean design. Views from the lodge are stunning: on a clear day, all three volcanoes can be seen."
Lizzie, Switzerland
"We unfortunately only got to stay here for one night as this place offers so much more. The cabins were beautiful, nestled in the gardens with plenty of bird life, and the staff so helpful in every way. It was an absolute delight to stay here."
Quinn, Australia
"The location right next to the park entrance and the surrounding Virunga volcanoes is stunning and totally off the beaten track: no traffic, only crisp mountain air and sounds of birds."
Julie, Belgium
Safaris at Mount Gahinga Lodge
On this short safari you will track the endangered mountain gorillas in Mgahinga National Park, as well as see the rare golden monkeys and hike a volcano. You will have the opportunity to visit the Gahinga Batwa Village to experience the ancient Batwa culture.
Launched in July 2021, this 10-day safari allows guests to experience trekking the gorillas in both Bwindi Impenetrable Forest and the Virunga mountains of Mgahinga National Park. You will also see the the endangered golden monkeys and experience the ancient Batwa culture in Mgahinga, before finishing your safari in the savannah of Queen Elizabeth National Park, hiking to the lost chimps of Kyambura Gorge, and going for game drives with a chance to see the famous tree-climbing lions of Ishasha.
View our 10-day Uganda safari: Gorillas, Chimpanzees, Volcanoes and Batwa culture