Canadian Geographic Travel, Marcello Di Cintio, June 2019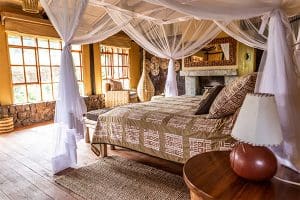 My butler woke me by singing a "good morning" song as he approached my banda at Mount Gahinga Lodge in Uganda. He tapped on my door, placed a tray with my morning coffee on the table and stepped back into the darkness. It was two hours before dawn.
I'd spent time at three of the four luxury lodges Volcanoes Safaris operates in the Great Lakes region of Uganda and Rwanda (see "Lodge life," below), and my favourite part of each stay were these sung wake-up calls. None of these were as early as on this particular morning, though. And none seemed as important. After nearly a week in the region, I was finally going to penetrate the Bwindi Impenetrable National Park. I was finally going to see gorillas.
After morning coffee, our posse of five drowsy travellers drove for two hours on a rough road to reach the park entrance at Rushaga in time for a briefing by park officials. Our group was assigned to visit the Bikingi gorilla family, a habituated group of about 15 gorillas. Armed with walking sticks, we followed our guide into the forest accompanied by three enthusiastic porters and a black-uniformed Ugandan soldier with an assault rifle. We hadn't made it far before our guide received a radio call from our tracker. He had good news. I'd heard stories of people hiking for hours, sometimes in the pouring rain, to reach their assigned gorilla groups. On this morning, however, the Bikingi clan was on the move. And they were coming toward us.
We plunged off the trail and down into the forest proper. Our guide hacked a path for us with a small scythe while our porters helped the less sure-footed among us navigate the slippery logs and tripwire vines. We hiked for about half an hour. Then, at the bottom of the valley, we found our gorillas.