WE ARE MARCHING single file on a mountain path, winding our way through a bamboo forest, tall spindles shooting to the sky. Sunlight splashes through the canopy, hitting the pale green of the bamboo sheaths and turning the light a refulgent green. It's magical, and strenuous. About 2,000 feet up, the vegetation turns into a jungle of hairy plants with needles and nettles. My ankles and calves itch terribly, but I concentrate on the mission at hand: getting face-to-face with a mountain gorilla.
The jungle is in Volcanoes National Park, on the Rwandan side of the Virunga Massif, which Rwanda shares with Uganda and the Democratic Republic of Congo. You can see mountain gorillas in those countries, too, but Rwanda both has the largest population and has done the bulk of the scientific research; it is, after all, where the legendary primatologist Dian Fossey came to do her work. Rwanda also boasts a burgeoning infrastructure geared toward "gorilla tourism," with well-appointed bush lodges scattered around Volcanoes National Park and a range of knowledgeable, reliable guides and outfitters.
You'll need one of those, because getting into this jungle to see the gorillas requires a permit, and they can be sold out a year in advance: The Rwandan Opens a New Window. government strictly limits the number of visitors to keep the wilderness pristine and manageable, and for the gorillas' well-being. Some groups of gorillas are designated for research and others for tourism, which funds the research; the "tourist gorillas" are permitted no more than eight human visitors a day. You don't know how long it will take to encounter the animals: It could require two hours of hiking; it could take eight. From the moment the guide spots the animals, the humans have 60 minutes to spend with them. Then it's time to go, lest the humans have an impact on these wild beasts.
Nearly a quarter of a century later, Rwandans are striving for national unity; it is commonly said there are no Hutus or Tutsis now, only Rwandans. That is still probably more an aspiration than a reality; such suffering is not so easily put aside. But you can see a nascent infrastructure of tourism and business. Kigali, where 1.2 million of the country's 12 million citizens live, is now a destination, one of the continent's emerging commercial centers.
A lot of this development, as it happens, is thanks to the gorillas, which Rwanda protects assiduously and treats as a national treasure. In 2017, the country doubled the cost of a trekking permit, which funds gorilla conservation, to $1,500—Uganda charges $600; the DRC, $400. As a result of such efforts, the gorilla population has risen to 880 and is growing.
Now, in the forest, I am anxious to see them for myself. The hikers in front of me suddenly hush and freeze in place. The anxiety I had that we wouldn't find the gorillas is replaced by anxiety that we have.
We've been briefed on the proper pose of subservience should a gorilla go, well, apeshit (a submissive bow, so the gorilla knows you know who's the boss). We've also been instructed to stay 22 feet away, to keep the gorillas safe from catching any bug or illness we might have brought, but it's hard to judge distances on a slope, and the gorillas, 17 in this group, are spread out. Suddenly two of them pop up behind me to the right, a mother and a baby, and behind me from the left two blackbacks, adolescent males. I am surrounded, which is at once disconcerting and thrilling. Thirty feet below, the core of the group nests in a patch of jungle, babies suckling, mothers gathering, the alpha silverback at leisure.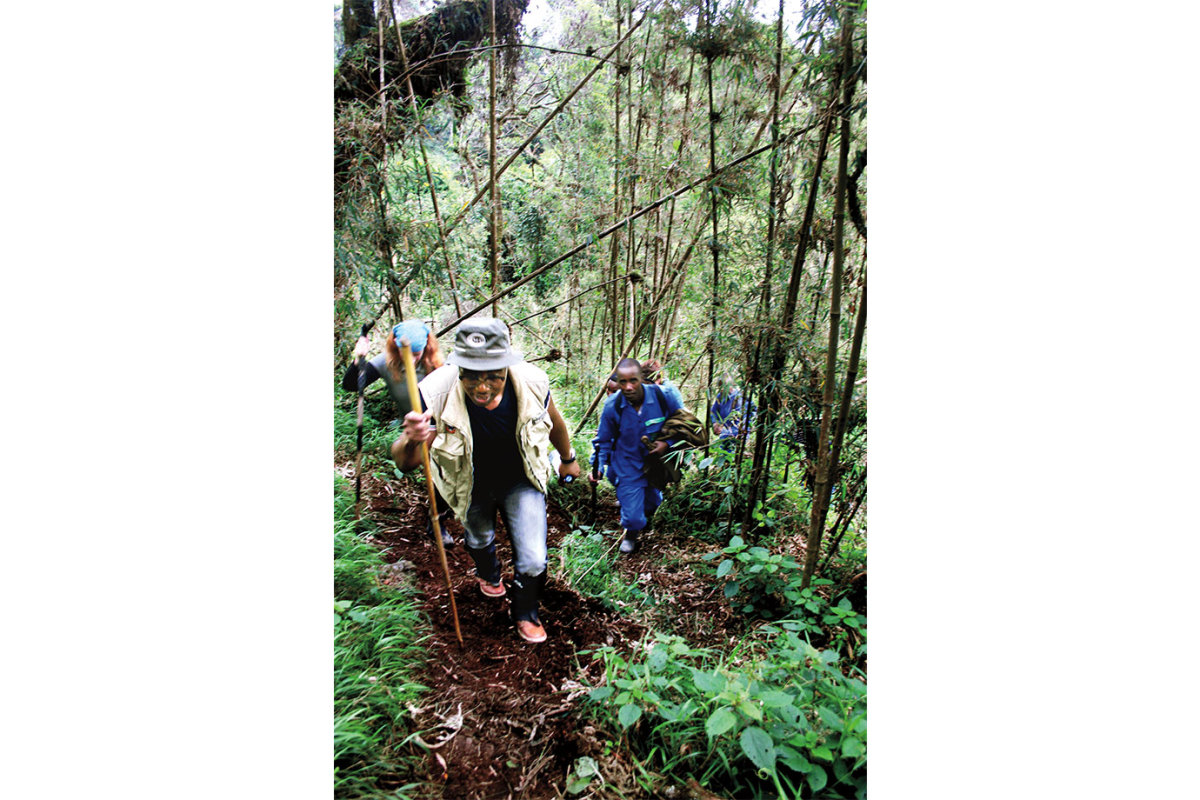 The alpha claims all females for himself, but evidently the laws of the jungle differ from its customs. Our guide, Emmanuel Harerimana, offers a kind of abridged Kinsey Guide to Gorilla Sex: If the other males can't displace the alpha, they leave to start their own groups, or they agree to stay on as bachelors. This has benefits. The alpha is primarily after his own pleasure; he can be quick and quickly disinterested. "So if the females want to have fun," Harerimana explains, "they go to a younger one, and they go behind a bush." If a female gets pregnant, she'll be sure to nuzzle and cozy up to the alpha, who might kill the baby if he suspects it isn't his.
Harerimana, who is 31, communicates with the gorillas in tonal grunts he has learned in his eight years as a guide. His first contact with gorillas was when he was very young. His mother was working in a field and left him with his infant sister. Suddenly a big male bounded toward him. He ran for his mother, and by the time they returned, the gorilla was holding his sister in his hands. His mother fell to her knees pleading. The gorilla laid the baby down and walked away, disappearing into the jungle.
We settle in for our allotted time, taking photos and sharing the gorillas' space. They are used to it and incurious, much the way that locals shrug at a new set of tourists. They have amazingly expressive faces, but who can guess what they are thinking? Are they pondering whether the bamboo Opens a New Window. downhill tastes better than that of other terroir? Or wondering if the alpha has his suspicions, and maybe they should stop before things get really ugly?
Harerimana taps his watch. "OK guys, it's time to go," he says. But for a minute, or maybe two, no one really responds, forcing our guide to repeat himself. It's as if we're all waiting for someone else to make the first move, and no wonder: Those 60 minutes have added up to a precious moment that no one is eager to let go.
Rwanda: A User's Guide
When to go
The driest months in the rain forest are December to February and June to September. Book at least six months ahead, and bear in mind that permits can sell out a year in advance.
Getting there
Fly direct to Kigali from Amsterdam on KLM Royal Dutch Airlines or Brussels Airlines; there are daily regional connections from Nairobi, Addis Ababa, and Johannesburg.
Cost
Trekking packages, which typically include a private guide and transport, accommodations, and meals, start at about $1,000 per person/day—plus $1,500 for a gorilla trekking permit.
Where to stay/outfitters  
For even better views, try the Virunga Lodge, located in Volcanoes National Park that offers gorilla treks.