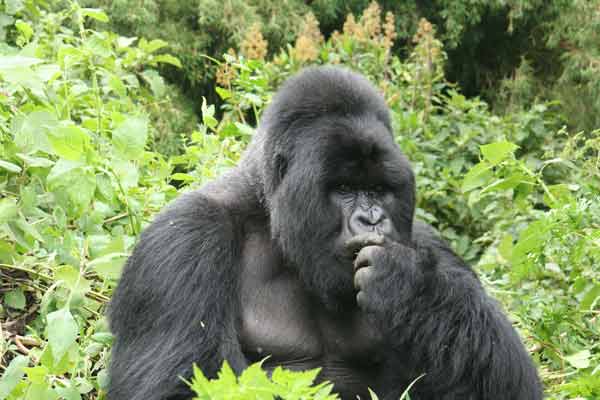 I 'm expecting my first sighting of a mountain gorilla to be a hint of a black or silver coat, glimpsed in the forest shadows, somewhere far in the distance. But, it's
not like that at all.
The trackers whisper that they're close. "How close?"
Seeing that I'm still fumbling with my cameras, they answer with a gentle 'are-you-ready?' smile. Then they part the foliage like a curtain, and there he is. An adolescent male, the size of a small armchair, in plain view, right in front of us. Just sitting there. Munching.
I'm astonished to find myself almost within touching distance. These days, nobody gets to do an Attenborough, lolling in the greenery while mountain gorillas make themselves at home around them. Since the BBC filmed those unforgettable sequences for Life on Earth almost
30 years ago, experts have agreed that humans and gorillas should remain at least 23 apart to protect these critically endangered animals from stress-related illness and viral infections. Glancing
behind me, I try to reverse, but the blackback, relaxed in human company, simply edges his handsome shoulders forward, intent on plucking the juiciest myrianthus leaves he canfind. He clearly hasn't read the guidelines.
"This is Kaganga," murmurs tracker Elisha Kastama. "His name means big and strong." It's a fine name indeed. Mountain gorillas are a sub-species of the eastern gorilla, the world's largest primate, and Kaganga, when fully grown, will weigh more than a motorbike. I gingerly move away, keen to give him space. It's time to meet the rest of the family.
Ten million years have passed since the common ancestors of humans and gorillas roamed forests like these, but we still share 98% of our DNA and echo each other in looks and habits, from our sociable lifestyles to the way we examine our fingernails. The remaining 2% covers specific adaptations, such as the layer of reinforcing keratin that allows gorillas to walk on their knuckles. Reflecting on his own early encounters, George Schaller, the naturalist whose pioneering study inspired Dian Fossey to dedicate her life to the cause, described his profound sense of kinship and respect, writing, 'No one who looks into a gorilla's eyes — intelligent, gentle, vulnerable — can remain unchanged.' Today, I'm gripped by similar emotions. As the curious youngsters, peaceful females and Bakwate the alpha male, a magnificent silverback, emerge and settle down to browse, the more accepted and humbled I feel.
Part of the joy of being here, deep in the tangled folds of southwest Uganda's Bwindi Impenetrable National Park, is the sheer relief of making it. Bwindi is home to almost half the world's population of mountain gorillas and around 45% of these — 13 groups — have become habituated to visitors through the quiet daily presence of rangers over several years. For the tourists who now pay US$600 (£480) to track gorillas, sightings are pretty much guaranteed, but there's no guarantee that it'll be easy.
Yesterday, at a luxurious eco-lodge near the park headquarters in Buhoma, I met a party of well-dressed American retirees enjoying an après-trek lunch. They were beaming. After a straightforward hike, unspoilt by mud, heat or bloodthirsty insects, they found their gorillas within a few hundred yards. Yet, for others, the experience can be tougher. Bwindi is slightly lower in altitude than Volcanoes National Park in Rwanda, Africa's better known gorilla-watching destination, but its terrain can be exhausting. If the group you're seeking has moved to a remote part of its range, you must hike for hours through a steep, roadless maze of thickly vegetated ridges and valleys for your precious 60-minute audience. It's an adventure for some, but an ordeal for others, and once it's over, there's no helicopter rescue for the fit-but-footsore — everyone has to hike back again.
So, when I hear I'm visiting the Oruzogo group, it feels like the short straw. The Uganda Wildlife Authority (UWA) describes their patch as 'challenging' and to get there, I must set o before dawn. Little do I know, as I shake myself awake, that the group has a secret I wouldn't want to miss for the world.
My journey begins with a drive along the park's northern boundary. The mountain road from Buhoma to Ruhija is newly surfaced, one of the many changes brought about since gorilla tourism commenced in 1993. Below the once-treacherous hairpin bends is a patchwork of smallholdings, quilted with bananas, sweet potatoes and tea. As the sun comes up, the villagers are already at work. Our pre-trek instructions are part military-style briefing, part pep talk. "We're tracking gorillas, but we're also protecting them," says Stephen Migyisha, our guide. Like all the UWA rangers, he's wearing dark khaki fatigues with the Ugandan flag on one sleeve. "I want you to be prepared, physically and mentally. At the moment, you may look smart, but don't be surprised if, at the end of the day, that's all changed."
A neat line of freelance porters are waiting at the trailhead. Most of them are students supplementing their studies; all have been vetted for their skills. When Stephen asks if I'd like to hire someone, I don't hesitate; but when Divotah Katusime steps forward and introduces herself, I pause. At barely five feet tall, will she cope? Loaded with cameras, water and lunch, my bag weighs a ton. I needn't have worried, though. To demonstrate her muscle power, she practically pulls me over.
Right from the start, Divotah proves a godsend. On the steep descents, she checks I'm not slipping; on the climbs she lends an arm; and, when Stephen and the armed scouts abandon the path and start hacking through the forest with their pangas, she's there to untangle me from stray branches and deflect me from stinging vines.
ESSENTIALS
Getting there & around
Ethiopian Airlines and Kenya Airways y daily from Heathrow to Entebbe via Addis Ababa and Nairobi. ethiopianairlines.com kenya-airways.com AVERAGE FLIGHT TIME: 12h.
Bwindi Impenetrable National Park is around 275 miles from Entebbe by road. Alternatively, y from Entebbe to Kihihi (25 miles from Buhoma) or Kisoro (21 miles from Nkuringo) with Aerolink. aerolinkuganda.com
When to go
It's possible to track gorillas at any time of year. Many visitors avoid the rainiest, muddiest months (Mar-May and Oct-Nov), so UWA may discount tracking permits from US$600 (£480) to $450 (£362) during this period.
More info
ugandawildlife.org
visituganda.com
Uganda (Bradt Travel Guides). RRP: £17.99
Where to stay
Volcanoes Bwindi Lodge. volcanoessafaris.com  Clouds Mountain Gorilla Lodge. wildplacesafrica.com Nkuringo Bwindi Gorilla Lodge. mountaingorillalodge.com
By Emma Gregg