This short & sweet stay offers the opportunity to engage with the endangered mountain gorillas and the local community, and is the perfect addition to any larger Africa itinerary. As the premier luxury destination for trekking with the endangered mountain gorillas in Rwanda, Virunga Lodge offers guests unparalleled panoramas, beautiful accommodations, and personalized service.
Highlights Include:
Gorilla tracking in Parc National des Volcans (PNV)
Golden monkey tracking in Parc National des Volcans (PNV)
Hike to Dian Fossey's grave and visit the Karisoke Research Centre
Intore dance group performance
Community visit
Photos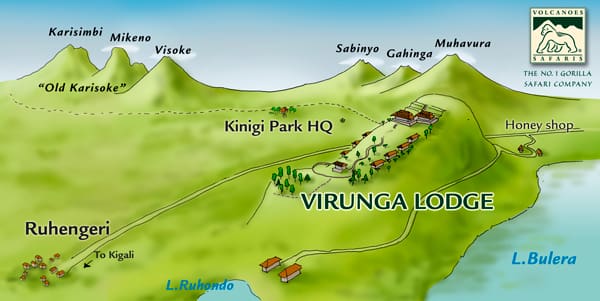 Safari Itinerary
Day 1
Arriving in Kigali you will be welcomed by your expert guide who will provide knowledge and assistance throughout your safari. Set off for the Volcanoes Virunga Lodge. Enjoy your pre-dinner drinks on the terrace with stunning views of the Volcanoes or warm yourself inside by the roaring fire.
Approximate Travel Time: Driving 3 hours
Please book flights arriving no later than 10:00am.
O/N Virunga Lodge (L,D)
Day 2
It is an early start for gorilla tracking in Parc National des Volcans, through the enchanting bamboo forest on the slopes of the Virunga range of volcanoes. After a gentle climb of between one and three hours, you will spend one hour in the company of these gentle apes before returning to base in time for a late lunch. Some gorilla families can be more elusive, and tracking can take a full day, especially if it is wet and muddy.
O/N Virunga Lodge (B,L,D)
Day 3
Today choose from one of the optional activities:
Go for a second gorilla trek (additional permits required)
Trek to the grave of pioneer primatologist Dian Fossey and visit the gorilla cemetery, the final resting place of her favorite gorilla, Digit, and many other gorillas.
Visit Lake Kivu, location of the finest inland beaches in Africa.
Take a guided walk to Lake Bulera, to experience village life.
Tour the former Imbabazi Orphanage and beautiful English cottage gardens.
O/N: Virunga Lodge (B, L, D)
Day 4
Drive to Kigali, and time permitting, enjoy a city tour and a visit to the Kigali Genocide Memorial before your international flight.
A visit to the Kigali Genocide Memorial is a moving testimony to this country's past that it has courageously overcome (guests to pay/donate entrance fees directly).
Transfer to the airport in time for your return flight.
(B, L)
Approximate Travel Time: Driving 3 hours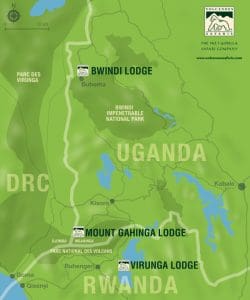 Quotes
"Rwanda is the place to see gorillas and this lodge is a very special place. Incredible views of the volcanoes and the crater twin lakes below. One of the first lodges to start the tourism in Rwanda after the genocide — the tourism really protects these creatures and their habitat which justifies the cost."
Maddi, USA
"Words do not suffice how beautiful it is here!"
Byishimo, Portland
"In all my years this is the most beautiful place I've ever stayed! Congratulations on everything you do for the community!"
"Coming to the Volcanoes Park to see the gorillas cannot be a complete experience without staying at Virunga Lodge, a little paradise with wonderful views and the most helpful, pleasant and efficient staff to make our stay a perfect experience!"
Mark and Anne, UK
The staff at Virunga Lodge offered unparalleled service and professionalism. Our deluxe banda was beautifully appointed and very comfortable – great bed! Virunga is a magnificent place to stay…
Diane and Claudio, Canada
Accommodation for this Safari
The magnificent Virunga Lodge is perched high on a ridge and has stunning views of the Virunga Volcanoes and the twin lakes Bulera and Ruhonda. The premier luxury destination for tracking the endangered mountain gorillas.