Our popular 7-Day gorilla and chimpanzee safari in Uganda takes you to Bwindi Lodge in the highlands of Bwindi Impenetrable Forest to trek the majestic mountain gorillas, on game drives to see the tree-climbing lions of Ishasha, a wildlife boat cruise on the Kazinga Channel, and finally to search for the 'Lost Chimpanzees of Kyambura' of Kyambura Gorge Lodge.
Highlights Include:
Gorilla Tracking in Bwindi Impenetrable Forest
Chimpanzee Tracking in Kyambura Gorge
Game Drives in Queen Elizabeth National Park
Tree-Climbing Lions in Ishasha
Boat Cruises on the Kazinga Channel
Birding
Community Projects in Kyambura and Bwindi
Safari Itinerary
Day 1
Arrive at Entebbe airport where an Aerolink member of staff will assist you with the check-in and transfer to your 07:45am (arrival 10:05am) or 12:30pm (arrival 14:35pm) domestic flight to Kasese, check-in time is one hour before the flight. Once in Kasese you will be welcomed by your expert guide who will provide knowledge and assistance throughout your journey.
Transfer to Queen Elizabeth National Park and the contemporary Kyambura Gorge Lodge. Enjoy pre-dinner drinks on the veranda that overlooks the savannah plains with the magnificent Rwenzori Mountains in the distance.
Approximate Travel Times: Flying 2 hours; Driving 2 hours
O/N Kyambura Gorge Lodge (L,D)
Day 2
Either take an early morning or evening game drive for the best opportunity to see game. What you see depends on the season, but the Kasenyi plains are excellent for sighting lion and large herds of Uganda kob. The Mweya peninsula is one of the best places to look for leopard, which live in the dense, scrubby thickets.
You can also visit various community projects from the Volcanoes Safaris Partnership Trust (VSPT) including: Women's Coffee Cooperative Tour, Reclaimed Wetland Tour, Bee-Keeping Fence Visit, Omumushaka Dance Group Performance, Empundu Playground Visit and much more.
O/N Kyambura Gorge Lodge (B,L,D)
Day 3
The Kyambura Gorge is an extraordinary natural environment and forms a stark contrast to the surrounding grasslands. Here you can track one of our closest animal relatives: the chimpanzee. The chimp population is quite mobile and viewing can be unpredictable but the walk itself is enchanting.
In the afternoon take a cruise on the Kazinga Channel, which flows between Lakes Edward and George. Kazinga is home to one of the greatest concentration of hippo in Africa and herds of elephant, buffalo and other animals come to drink at the waters edge. The channel is a magnet for waterbirds, with great flocks of pelicans and others birds on the shore, and a great spot to see African fish eagle.
O/N Kyambura Gorge Lodge (B,L,D)
Day 4
Your safari now continues to the primeval Bwindi forest. Travelling via Ishasha – subject to road conditions – you can observe the unusual behaviour exhibited by the tree-climbing lions. The long journey through the rapidly changing landscape takes you to Volcanoes Bwindi Lodge, which looks across to the towering trees of the forest. Depending on when you arrive, there maybe time to explore the lodge grounds with its clear mountain stream or visit the local village.
You can also visit the Bwindi bar a VSPT project located just 3 minutes from the lodge. They serve chilled drinks and delicious snacks at pocket friendly prices. A few minutes at Bwindi bar will give you an insight in what life in Bwindi Community is like.
Approximate Travel Times: Driving 6 hours
O/N Bwindi Lodge (B,L,D)
Day 5
After enjoying an early breakfast, you set off gorilla tracking. Trekking through the steep, densely forested hills and then finally coming across the gorillas camouflaged in the vegetation is an inspiring and privileged moment. Tracking in the Bwindi forest requires stamina and can often take most of the day.
Alternatively there are other activities and excursions on offer in and around the national park:
Take a guided walk in the rainforest, home to several endemic bird species, clouds of butterflies and rare plant life. This walk offers excellent photographic
opportunities and the knowledgeable guide will provide a great insight into this globally important habitat.
Walk through the local village, and learn about community life and Bwindi Community Hospital that started as a health clinic under a tree and now provides vital medical and educational services to over 60,000 people. Also take a tour of our local tea processing operation at the lodge which enables guests to see the various different methods for tea growing and at the end of the tour taste some of our own grown tea! The Volcanoes Safaris Partnership Trust supports both projects.
Discover the traditions of the Batwa Pygmies, and learn about the native tribal inhabitants of the forest. The indigenous people of Bwindi forest, though no longer resident in the forest, still practice many of their traditional hunter-gatherer skills.
Approximate Travel Times: Driving 6 hours
O/N Bwindi Lodge (B,L,D)
Day 6
Either go gorilla tracking again (additional permits required, upon payment of supplement, subject to availability), or opt for one of the other, gentler but equally rewarding alternatives available (see above).
O/N Bwindi Lodge (B,L,D)
Day 7
Transfer from Bwindi lodge to the Kihihi airstrip. Leave with the 09:45am (arrive at 11:25am) or 14:05pm (arrive at 15:55pm) return flight to Entebbe and connect in time for your return flight.
Approximate Travel Times: Flying 2 hours; Driving 2 hours
Please book return flights departing after 08:00pm
Bwindi Lodge (B)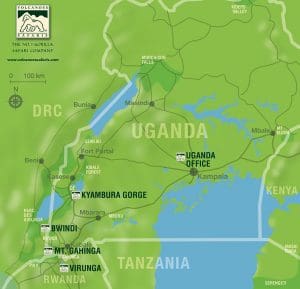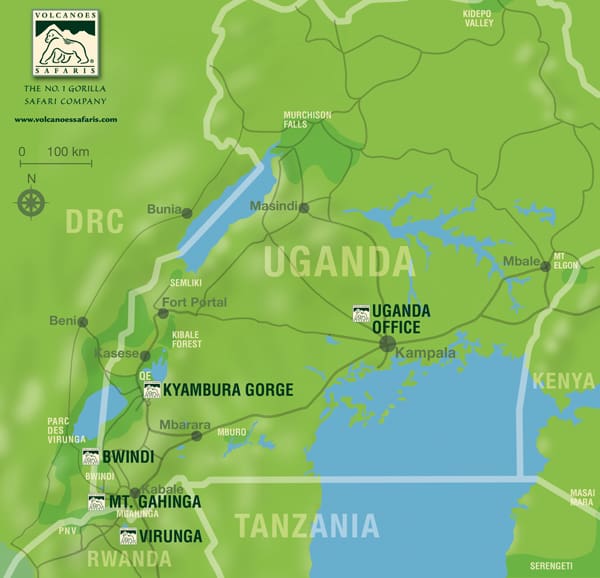 Quotes
"Truly a wonderful experience! Thank you to Mariana and all the staff for making our stay in Bwindi so memorable!!"
Renata and Robin
"Kyambura Gorge – a heavenly Soho House-like lodge complete with four-poster beds, giant in and outdoor showers, plus a plains-fringed pool."
Nicola Moyne, Evening Standard
Accommodation for this Safari
The eclectic contemporary Kyambura Gorge Lodge has been converted from an old coffee processing plant and has incredible views overlooking the Queen Elizabeth National Park, the mythical Mountains of the Moon in the far distance.
Overlooking the primeval Bwindi Impenetrable Forest and with stunning views of the forest canopy across a serene stream, Bwindi Lodge is one of Africa's unique lodges.