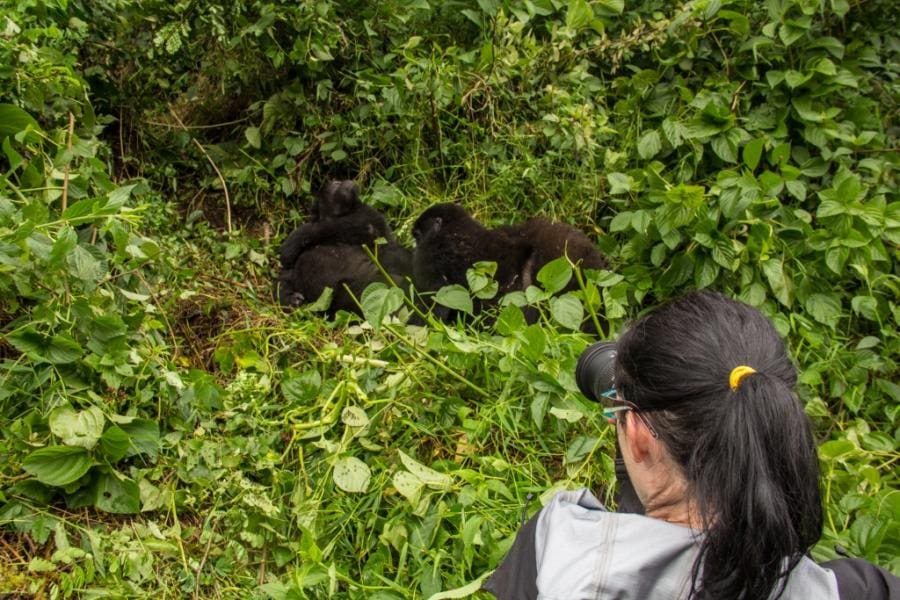 Bwindi Impenetrable Forest National Park is one of Uganda's most spectacular conservation areas.
It is situated in Southwestern Uganda along the Rift Valley. Its misty valleys feature Uganda's ancient and most biodiversity tropical rainforest. Bwindi covers an area of about 331 square kilometers and mainly composed of montane and lowland forest, offering refuge to over 400 plant species, 120 mammal species including apes like chimpanzees, baboons, the rare mountain gorillas, colobus monkeys, L'Hoests, Red tailed monkeys, Black and white colobus monkeys, Vervet monkeys as well as elephants and antelope family; 350 birdlife including the 23 Albertine Rift Endemic species, 1000 flowering plants, 104 fern species and 200 species of trees. Bwindi National Park is a UNESCO Heritage Site that lies between altitude 1160 and 2607 meters above sea level.
For any gorilla safaris to Bwindi Impenetrable Forest National Park, below are a few things that you should be aware about;
Trekking mountain gorillas in Bwindi Impenetrable Forest National Park
For mountain gorilla safaris, Bwindi Impenetrable Forest National Park offers refuge to about 400 individuals which represent about half of the total population that is believed to be still thriving in the world.  For life time experiences, only 11 habituated gorilla families are available for tourists to track every day in any of the four sectors; Buhoma, Ruhija, Nkuringo and Rushaga area. Each group offers a different experience and if you have adequate time, you can visit more than one family while on their safari. Only 8 tourists are permitted to track one gorilla group per day. For magical encounters, visitors are allowed to spend only one hour with these endangered apes in the wild. Gorilla trekking adventure is unpredictable. This adventure depends on the group that is allocated to you and your level of physical fitness. For visitors who intend to visit Buhoma sector, the groups for you to track are Mubare, Habinyanja and Rushegura group; Ruhija area comprises of the Oruzogo, Bitukura and Kyaguriro group; in Rushaga area which features as one of the best sectors for gorilla trekking comes with Nshongi, Mishaya, Bweza, Kahungye and Busingye family; in Nkuringo area you can track Nkuringo family. Besides, you can also engage in Gorilla Habituation Experience which is only conducted in Bwindi which makes it one of the extra-ordinary national parks for you to catch a glimpse of these rare species while in their natural habitat. Permits in Uganda are purchased at $600 and if you are interested in habituation experience, permits are sold at $1500.
How to get to Bwindi Impenetrable Forest National Park
You can reach Bwindi National Park by road or air. By road, a 4 by 4 safari car is preferable to help you transverse through the hills. You will spend about 8 to 10 hours while driving from Kampala to the Bwindi Impenetrable Forest National Park. You can set off from Kampala to Queen Elizabeth National Park towards the North for about 2 to 3 hours from Kabale to the South for one to two hours or from Kampala through Mbarara. You will make a stopover at Queen Elizabeth National Park to catch a glimpse of the rare tree climbing lions at Ishasha sector or at the Equator for a memorable photo taking. Other routes include the Kampala-Kabale Kanungu-Buhoma; Kampala-Ntungamo-Rukungiri-Kihihi-Buhoma sector and this is one of the simplest and most convenient routes for you to connect from Kampala direct on a tarmac road to Rukungiri and then connect on a murram road to Buhoma area. You can also take the Kampala-Kabale-Ruhija-Buhoma route or Kampala-Kabale-Nkuringo sector. There are also public transport means for you to use especially the buses that set off each day from Kampala to Butogota. But this will require you to hire a vehicle or boda boda to help you connect up to the park
By air, you can fly from, Entebbe International Airport or Kajjansi airfield and then land off from Kisoro or Kihihi airstrip. For visitors who prefer visiting Buhoma sector, they can take on charter planes and land in Kayonza airstrip.
Rest at Lake Bunyonyi and Lake Mutanda
After your trek, chances are you will become tired and you will need a better environment to chill and relax. If you are at Buhoma or Nkuringo area, Lake Bunyonyi is one of the best places for you visit for you to catch up with boat cruises and other several water sport activities to make you relax after that breathtaking adventure. Lake Bunyonyi is undoubtedly one of the natural wonders in the world. It comprises of about 29 islands. If you are at Ruhija or Mgahinga Gorilla National Park, you can visit Lake Mutanda in Kisoro. The exciting activities for you to engage in include boat rides, cycling, hiking and community walks.
Community and forest treks
If you are interested in community walks or forest treks, Bwindi National Park has a lot in offer for you to explore in addition to mountain gorilla safaris. You can choose to trek personally but for safety reasons, you may need a guide and your lodge for guidance especially when it comes to routes. As you go deep into the forest, you may require hiking for instance if you are visiting the Muyanga waterfalls which departs from Buhoma, Rushura hill walk that passes via one forest shared by 2 nations, Buhoma-Nkuringo trek, Ivi River walk, Habinyanja trail and Muzubijiro loop which is next to trails used by the park wildlife. Those treks may require an armed park guide to make sure that you are safe. For community treks, they can be conducted without an armed guide provided that you follow the paths properly. You may also engage in bike ride treks with the local residents which reward visitors with yet exceptional experience.
Discount gorilla permits
Gorilla trekking is conducted within the dry and wet season. Due to competitive demand for permits during the dry season, visitors who may not achieve their dreams Uganda Wildlife Authority offers discounted gorilla trekking permits for low season especially in the months of April, May and November. For those who may prefer visiting Uganda during the off season, they can book for the November discounted permits. The permits can be booked online but it is advisable that you book through the tour company to make the process easier for you.
The lodges in Bwindi Impenetrable Forest National Park
Bwindi Impenetrable Forest National Park has a wide range of accommodation and lodges, bandas and budget campsites, restaurants, craft stalls and guiding services for visitors who come for gorilla trekking and other safaris. There are several options ranging from budget, mid range to luxury facilities. Some of the lodges are closely situated around the park and while planning your gorilla trek, make sure that you choose accommodation based on your preferred tracking sector. Some of the notable lodges for you to choose include Buhoma Community Rest Camp, Sanctuary Gorilla Forest Camp, Buhoma Lodge, Silverback Lodge, Volcanoes Safaris Bwindi Lodge, Gorilla Resort, Bwindi Guest House, Eco Marvels Gorilla Resort, Nkuringo Gorilla Camp, Clouds Mountain Gorilla Lodge, Ruhija Gorilla Safari Lodge, Wagtail Eco Safari Camp, Gorilla Safari Lodge, Lake Kitandara and Bwindi Camp and many more.
The people and culture
For authentic cultural experiences, you can visit the communities around the park and explore the Bakiga and Batwa pygmy's cultural and traditional practices through performances, workshops and village walks. A cultural tour around the communities rewards you with exceptional cultural practices like the hunting and gathering techniques of the Batwa-the renowned forest dwellers who stayed for over 500000 years.
In conclusion, Bwindi Impenetrable Forest National Park is one of Uganda's most exceptional destinations for you to experience more than mountain gorillas. With the above tips, we believe that you won't be left out of choice given as you have a variety of exciting activities in offer for you to choose from to make your safari in Uganda very memorable. You can also visit Mgahinga National Park for gorilla trekking experiences.