This 4-day Bwindi adventure invites guests into the Bwindi Impenetrable Forest, a World Heritage Site, in search of the enchanting mountain gorillas. Spend four days on the edge of the forest, spotting monkeys, birds and other wildlife. We also welcome you to interact with and learn about the local communities of Bwindi & Buhoma.
Highlights Include:
Gorilla Tracking in the Bwindi Impenetrable National Park
Forest Walks in the Bwindi Impenetrable Forest National Park
Bwindi Community Hospital visit
Birding
Community Project visits in Bwindi and Buhoma
Safari Itinerary
Day 1
Arrive at Entebbe airport where an Aerolink staff member will assist you with the check-in and transfer to your domestic flight to Kihihi. Upon arrival at Kihihi you will be welcomed by your expert guide who will provide knowledge and assistance throughout your journey.
Transfer to Bwindi Lodge. Enjoy pre-dinner drinks on the veranda that overlooks our namesake forest with the calls of more than 150 bird species echoing in the distance.
Approximate Travel Times: Flying 2 hours; Driving 2 hours
O/N Bwindi Lodge (L,D)
Day 2
After enjoying an early breakfast, you set off gorilla tracking. Trekking through the steep, densely forested hills and then finally coming across the gorillas camouflaged in the vegetation is an inspiring and privileged moment. Tracking in the Bwindi forest requires stamina and can often take most of the day.
O/N Bwindi Lodge (B,L,D)
Day 3
Today choose from one of the optional activities:
Go for a second gorilla trek (additional permits required)
Take a guided walk in the rainforest
Visit a local village and learn about community life
Visit the Bwindi Community Hospital that now provides vital medical and educational services to more than 60,000 people
Take a tour of our local tea processing cooperation
Discover the traditions of the Batwa Pygmies, and learn about the native tribal inhabitants of the forest
O/N Bwindi Lodge (B,L,D)
Day 4
Transfer from Bwindi lodge to the Kihihi airstrip. Leave with the morning or afternoon return flight to Entebbe and connect in time for your international flight.
Approximate Travel Times: Flying 1 hour; Driving 2 hours
Please book international flights departing after 8pm
(B)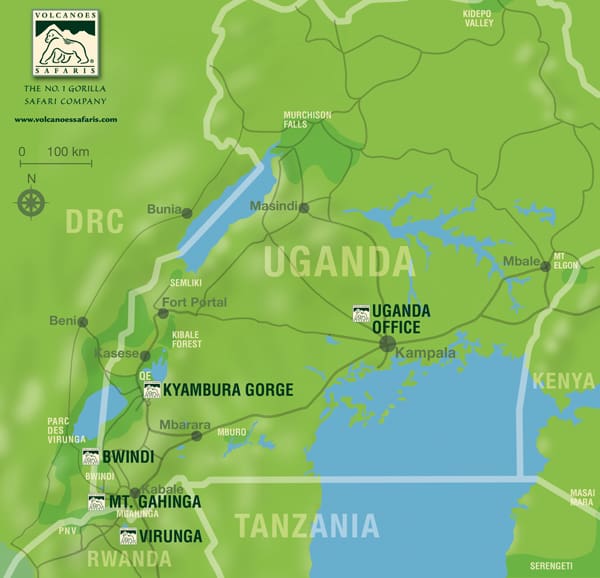 Quotes
"The lodge is only a couple of hundred meters from the Bwindi national park, very convenient for gorilla tracking. On top of that, there is a beautiful walk around the grounds to the river below, where you can encounter many different species of primates and birds."
Max, Uganda
"The best service we have received in Africa! Incredible gorilla experience and wonderful staff. Thank you!"
Trudie, Canada
"When you look at a gorilla, you're seeing something of yourself. The emotions are inevitably strong. The experience of being with the gorillas is magical because you're sharing something of your past.
We have to ask ourselves, when we have special species like this, how are we going to make sure, for posterity, they are protected."